Are you ready to take that next step? Join Lone Star College April 14-16 for Open House events with free food and prizes at all six of its college locations.
Lone Star College is hosting an Open House to give prospective students and their families the chance to meet with LSC faculty and staff to learn about the many educational opportunities available at LSC. In addition, visitors will have a chance to win prizes, and free food and giveaways will be offered at all of the events.
"We often hear students tell stories about feeling nervous the first time they step onto a college campus," said Dr. Stephen C. Head, LSC chancellor. "Attending an open house allows them to get a sense of the college experience in a very casual and relaxed way."
LSC offers high-quality higher education that is close to home and costs a fraction of four-year universities like Texas A&M University or the University of Houston.
"Studies show that students who complete their first two years of higher education at a community college like Lone Star College and then transfer to a four-year institution are more likely to graduate with a bachelor's degree than those who begin their college careers at a four-year university," said Head.
LSC offers many academic transfer degrees to help students launch successful careers, along with workforce and career training.
Representatives will be on hand to answer questions about degree options, admissions and the application process. Financial aid information and assistance with the FAFSA (Free Application for Federal Student Aid) application process will also be available to help students learn about options available to help pay for college. Student organizations will also be on hand to share what campus life is like, along with the numerous clubs and intramural sports that are available.
The Open House schedule is:
| | | |
| --- | --- | --- |
| | Saturday, April 16 | 11 a.m. – 1:30 p.m. |
| | Saturday, April 16 | 10 a.m. – 1 p.m. |
| | Thursday, April 14 | 4 – 7 p.m. |
| | Thursday, April 14 | 4 – 7 p.m. |
| | Thursday, April 14 | 4 – 6:30 p.m. |
| | Thursday, April 14 | 4 – 7 p.m. |
| | Monday, April 11 | 4 – 7 p.m. |
Click here to learn more about Open House and register for a chance to win a Lone Star College prize pack!
Students can also learn about the Honor's College at LSC which offers high-achieving students the opportunity to graduate with Honors distinction. LSC also offers GED® classes for students to gain a high school equivalency diploma to apply to college, start training or get a better job.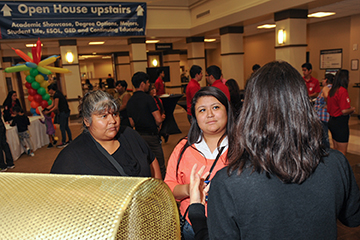 Lone Star College hosts Open House week April 11 – 16, allowing students and parents
the opportunity to learn about the many benefits of attending LSC.
Known for its leadership, innovation and steadfast commitment to student success, Lone Star College provides high-quality academic transfer and workforce education/career training programs to more than 83,000 credit students each semester, and a total enrollment of 95,000 students. LSC is training tomorrow's workforce today and redefining the community college experience to promote student success and economic prosperity. Stephen C. Head, Ph.D., is the chancellor of LSC, the largest institution of higher education in the Houston area, which consists of six colleges, eight centers, two university centers, Lone Star Corporate College and LSC-Online. To learn more visit LoneStar.edu.
####