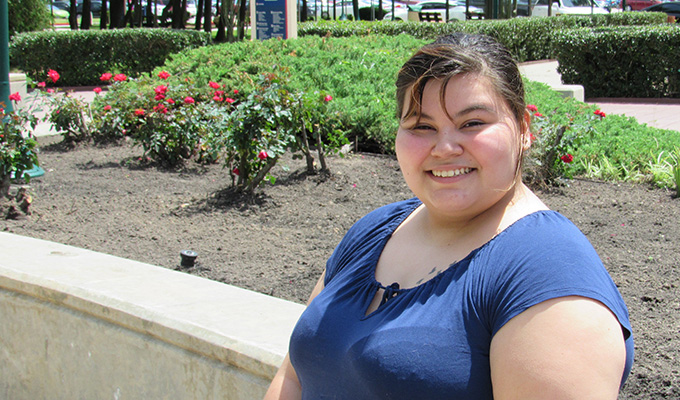 "When I began high school I was struggling with illnesses and it was really hard for me to go to school," said Sanchez.
Clement's family moved around a lot and the high school he was supposed to attend did not have room for him.
"I ended up not going to school at that time," recalls Clement.
"I knew Destry also dropped out of high school, so I told him we will study for our GED together and I am so glad we did," said Sanchez. "We accomplished so much together as a team. I know I would not have been as successful without him because I needed his encouragement."
"Alexey helped me out immensely," said Clement. "If I had to study on my own I definitely would not have passed. It was as if everything I needed help with, she knew."
Both traveled together to Lone Star College-Conroe Center for the prep course.
"The prep course was a lot more enjoyable than high school because I was able to work at my own pace," said Clement. "It is definitely helpful that you can work at your own pace because of the intensity of the GED test."
"The LSC-Conroe Center GED Prep Class covered math, English, social studies and science," remembers Sanchez. "It was really intense. In the beginning we reviewed multiplying fractions, then suddenly by the end of the month we were learning how to balance chemical equations."
Prep course teacher Kandace Henry knew there was more to Sanchez's educational journey.
"Miss Henry had confidence in me and she had important advice," said Sanchez. "She reassured me that I was going to pass my GED and in the meantime she would not let me get stuck in a slump. Miss Henry helped me take the TSI placement exam to continue at LSC-Montgomery."
Sanchez has not slowed down; she has been taking 13 credit hours this spring semester at LSC-Montgomery. She hopes to transfer to Sam Houston State University to study Psychology. As for Destry, he also passed the GED and plans to go back to school to get his college degree.
"This was not me just getting my GED, this was me moving on from a part of my life that I was not so proud of," said Sanchez. "There is not always going to be a certain path to follow. When I was in fifth grade I wanted to be my high school valedictorian. Then I got sick, now I am speaking at my GED graduation. In a way I am the valedictorian. Even though it did not work out exactly as I planned I am making myself proud."
LSC-Montgomery offers the GED review course and the GED test — both in English and in Spanish at Lone Star College-Conroe Center. Students must be 18 years of age or have parent or guardian permission to take the test.
The GED test is designed to measure the skills and knowledge equivalent to a high school course of study. It has served as a bridge to education and employment opportunities for an estimated 19 million people since 1942. Today, approximately one in seven high school diplomas issued in the United States each year is a GED certificate. The test consists of four content areas and takes approximately seven and a half hours to complete.
For more information about the LSC-Montgomery GED program visit www.LoneStar.edu/GED.
Lone Star College offers high-quality, low-cost academic transfer and career training education to 95,000 students each semester. LSC is training tomorrow's workforce today and redefining the community college experience to support student success. Stephen C. Head, Ph.D., serves as chancellor of LSC, the largest institution of higher education in the Houston area with an annual economic impact of $3.1 billion. LSC consists of six colleges, eight centers, two university centers, Lone Star Corporate College and LSC-Online. To learn more, visit LoneStar.edu.