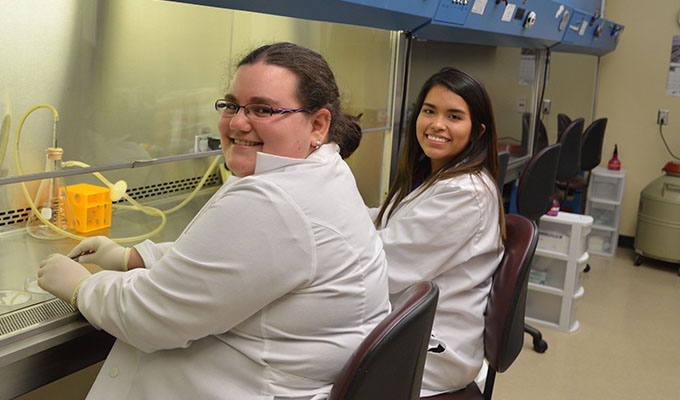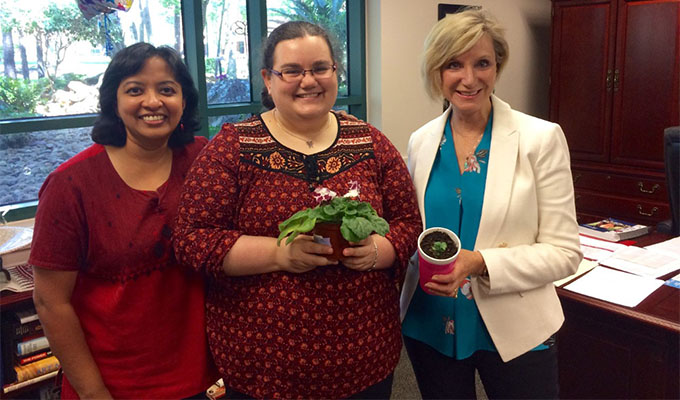 If you think your garden is doing well this spring, check out what Lone Star College-Montgomery honors students grew in class: students reproduced almost 30 African Violets from just 11 small leaves.
"To see the plant tissue culture succeeding is very rewarding," said student Maya Levkovitz. "I cloned a plant, not a lot of people can say that statement."
The process known as micropropagation spanned the entire semester, about four months.
"First we cut the leaves of African Violets and made sure everything was sterile," said student Cynthia Alvarez. "We went through a series of procedures with the leaf fragments to generate little plantlets, then we put each plantlet into soil to nourish it and help it grow."
One might think these students are biotechnology majors, but that is incorrect. Alvarez is studying accounting and Levkovitz is an interior design major. The class was honors non-majors biology.
"For these students the equipment and the procedures were all brand new," said professor Anitha Iyer.
Not only were the equipment and procedures new to these students, another aspect of the class was unprecedented: the students guided a regular section of introductory biotechnology students on how to do everything they just learned the week before.
"The honors students did a fantastic job teaching the other group with so much confidence and authority," said Iyer. "The best part of the whole process was seeing how much knowledge they picked up after their hands-on experience. There has been a lot of research that shows the more students perform hands-on science experiments early in their college careers the more the science spark is lit."
All the honors students did the same cloning procedure, but each of them wrote a separate research paper on a topic related to the experiment. Levkovitz looked into growing medicinal plants like aloe vera with this procedure. Alvarez investigated the viability of using this method with plants that are hard to grow in certain elements.
"I learned a lot about how to effectively work as a team," said Alvarez. "That lesson was something that is going to affect my accounting career and everything in life. I am grateful for this course because once you pick a major you take a lot of classes exclusive to that field of study, but completing biology for non-majors definitely broadened my mind. Professor Iyer's class almost made me change my major to biology," laughs Alvarez.
Iyer credits an innovative grant from the Undergraduate Research Institute (URI) at LSC-Montgomery with giving her the ability to teach this innovative class.
"None of this would have been possible without the URI," said Iyer. "The money I got from the grant allowed me to buy the expensive supplies and equipment needed to start the project."
The URI seeks to support the development of undergraduate research opportunities for LSC-Montgomery students in the Arts, Humanities, Sciences, and Social Sciences. The primary goal of the URI is to empower students to take an active role in developing and defining their educational experiences by collaborating with faculty to make original contributions to the academic conversation.
Iyer is planning to clone carrots during her honors biology sections this spring.
Lone Star College offers high-quality, low-cost academic transfer and career training education to 95,000 students each semester. LSC is training tomorrow's workforce today and redefining the community college experience to support student success. Stephen C. Head, Ph.D., serves as chancellor of LSC, the largest institution of higher education in the Houston area with an annual economic impact of $3.1 billion. LSC consists of six colleges, eight centers, two university centers, Lone Star Corporate College and LSC-Online. To learn more, visit LoneStar.edu.