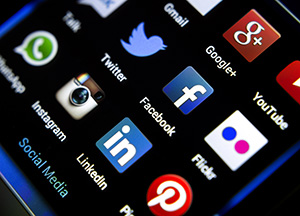 Lone Star College-CyFair's Business Success Seminars help build successful businesses with programs on Instagram, Google advertising, presentation skills, and the ups and downs of starting a business.
Maximize the success of your business with attendance each Wednesday Feb. 21 – March 28 (except March 14 due to spring break.)
February 21 - Instagram for Business
Leveraging the power of Instagram for business branding and networking is critical to all businesses. Demetrius Walker, MBA, LSC Small Business Development Center Advisor, explains how to connect with potential customers, give your business character, and sell, sell, sell through this social network.
February 28 - Google Advertising Part 1: Content: What to Say and How to Say It
Siva Yenneti, Director, Sales and Marketing with ITVibes shares how to use content marketing for Google Search Engine Optimization and also how to piggy back on influencer marketers (think of social media players with large followings.)
March 7 - Google Advertising Part 2: Adwords: Where to Post and How to Pay
Get detailed help from Mark Carubba, Chief Marketing Officer at Summit Dental Center, on how to use Adwords, a pay-per-click ad, and digital marketing strategies so you get maximum bang for your advertising buck.
March 14 - Spring Break – No Seminar
March 21 - Presentation Skills Training
It's not just what you say that matters, but how you say it. Karyn Friesen, Communications Professor at LSC-Montgomery tells how to keep your audience on the edge of their seats using innovative presentation techniques.
March 28 - Business Story: Jaxton's Bistro | Boardwalk Towne Lake
Join Jason Howard, restaurant owner and former Maitre d at Tony's, to discover the opportunities and pitfalls of starting and running a restaurant from someone who has been there.
Pre-registration is not required for these free seminars held from 8 a.m. to 9:15 a.m. in the library, room 131 (*unless otherwise noted) at 9191 Barker Cypress. There will be a drawing for prizes.
Co-hosting this series are the Small Business Development Center at Lone Star College, the Lone Star College-CyFair Branch Library and the Cy-Fair Houston Chamber of Commerce.
For information, go to LoneStar.edu/library/business-seminars or call 832.482.1057 or 281.290.3214.