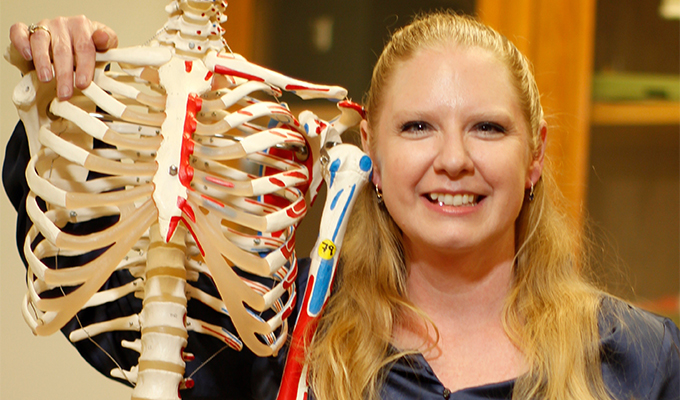 When you think of long lines or online queues you think of the next generation iPhone or tickets to a pop star's world tour, but Lone Star College-Montgomery students are clamoring to enroll in one specific professor's biology classes.
This past spring, Professor Melissa Jackson's Medical Microbiology class filled up in one minute and four seconds. To put it another way, if students were not up at midnight the day of registration, they missed out on her class. By 12:35 a.m. there were 352 attempts to register for Professor Jackson's section of Medical Microbiology.
"If you snooze you literally lose," said student Jennifer Godwin. "I drifted off at 11:45 p.m. the night before registration and when I woke up it was 12:05 a.m. and I screamed."
"I had a friend who knew she had to drop Professor Jackson's class," said Gwen Pantano. "I did not want to take any chances, so I had her come over my house, sit on the computer right next to me and drop it while I was supposed to pick it up and enroll in it, but it had already disappeared. I was so upset it happened that fast."
Students who have successfully registered shared their stories and the moral of the story is persistence.
"The only time I got in the system was down," said Francis Waluhu. "I think everybody must have given up and gone to sleep, but I finally got in close to 2:00 a.m."
Professor Jackson's reaction to causing all this pandemonium?
"I am humbled, I cannot believe the blessing I have been given," said Jackson tearing up. "To have the students tell me they fight to get into my classes and they beg the dean and they have emailed the president, it is just so awe inspiring and surreal. I am just doing what I love and having fun doing it. I am just doing my job."
Students describe Professor Jackson as reliable, knowledgeable, relatable and a mother-like figure who wants her children to succeed.
"I was not sure if college was going to be the right fit," recalled student Rebeca Day. "It had been 17 years since I had taken a college course I spent 17 years raising my kids and my confidence was not there at all. Professor Jackson's class was one of those moments where I started thinking, 'Okay, I can do this.' She breaks material down so you can understand it and from there your confidence keeps building. I would not be here if it was not for her."
Students say Professor Jackson discovers how they learn and begins lessons with that information top of mind. This approach has produced many funny stories in class.
"When we were learning the muscles, Professor Jackson taught us to remember the fasciae latae, a muscle in your hip by remembering you keep change in your pocket for a latte," said student Breana Lambke. "She makes quirky mnemonic devices you can envision. I love that. I will always remember my fasciae latae."
"If there is anything I can relate to that gets the students laughing and engaged the more likely they are to remember the material," said Jackson. "Medical microbiology is not easy, it is a lab intensive class all about organisms that will cause disease. I get excited about that class because I think cooties are fun. If students at LSC-Montgomery are engaged in class and ready to register early for biology classes we are doing something right as a community college and as professors."
Registration for summer classes begins March 5 and fall classes on April 9.
Lone Star College offers high-quality, low-cost academic transfer and career training education to 99,000 students each semester. LSC is training tomorrow's workforce today and redefining the community college experience to support student success. Stephen C. Head, Ph.D., serves as chancellor of LSC, the largest institution of higher education in the Houston area with an annual economic impact of $3.1 billion. LSC consists of six colleges, eight centers, two university centers, Lone Star Corporate College and LSC-Online. To learn more, visit LoneStar.edu.