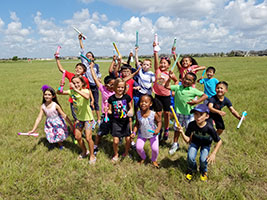 Summer fun for ages 6-14 is now available with the return of Lone Star College-CyFair's popular Discovery College.
"What makes our youth program unique? It is STEM-based (Science, Technology, Engineering and Math), so our participants are having fun while learning new and exciting things every day," said Destini Darby, program coordinator.
Among the favorite sessions are Robotics, Bubbly Oozy Science and Lone Star Treasure Hunt, said Darby. New offerings this year are Game Design, Food Science and Geology Rocks.
The Discovery College program options also include academics, performing arts, physical activity and more, she said. Some sessions are designed to help teens build self-esteem, set goals and plan for college.
Morning and afternoon sessions are available June 11-28 and July 9-12.
The weeklong sessions are $115 per class and are held at the Barker Cypress campus, located at 9191 Barker Cypress.
For registration or information, go to LoneStar.edu/youth-classes-cyfair