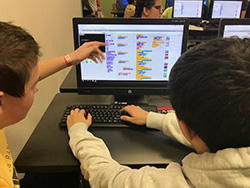 More than 500 attendees from Cypress-Fairbanks Independent School District and schools from across the state came to the Barker Cypress campus for the Gulf Coast Regional Science Olympiad, which Lone Star College-CyFair has hosted for the last 11 years.
As a qualifying prelim for state and national level competitions, this regional event provided student teams from 32 middle schools and high schools an opportunity to conduct experiments in a college lab as well as gain exposure to future Science, Technology, Engineering and Math (STEM) careers, said Professors Ann Van Heerden and Padmaja Vedartham, co-directors for this regional competition.
STEM-related events and experiments in geology, physics, chemistry, biology, math and computer programming were part of the fun.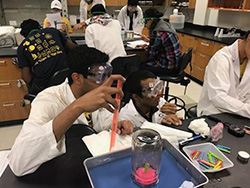 "Working as a team, analyzing data, designing and building, organizing information, planning, calculating, experimenting - all of these are valuable tools for young people," said Van Heerden.
This event also gives LSC-CyFair Honors College, Service Learning and STEM students a chance to volunteer alongside their professors and college staff.
Sean Palmer, who served as a volunteer scorekeeper this year, was previously a two-time Science Olympiad competitor in middle school and again in high school.
"Both times it reminded me of how much fun research and design can be," said Palmer. "It also opened my mind to other career options. In middle school I wanted to be a nuclear physicist and seeing more of biology and anatomy persuaded me to change my career path to neurologist."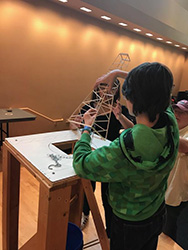 As a result of his experience, Palmer wants to change the perception of math and science from boring and static to beautifully organized. He is interesting in transferring to University of Texas at Austin to become a high school teacher or college professor, teaching math or science.
To help other students interested in STEM-related careers, LSC-CyFair has two fully-funded Science Olympiad Scholarship Endowments and has awarded the scholarship to three recipients since 2016.
The day-long competition concluded with an awards presentation recognizing top teams in each event as well as the top schools overall. Six Cypress-Fairbanks Independent School District schools participated with Cy-Ranch High School taking first in the high school level advancing them to the state competition at Texas A&M University.
Related, LSC-CyFair Professor Shamim Arastu and Professor Aurora Lugo are taking their students to CFISD's Anthony Middle School April 30 for a collaborative Service Learning project that provides STEM-specific science experiments to the middle school students.
In addition, LSC-CyFair's children's library has teamed up with professors and students to host STEM-related events for community children. Contact Cindy Hoffart-Watson at 281.290.3211 for information on the April 21 STEM Power Hour, April 21 STEMtastic Stations and April 24 STEMtastic Literacy events.
See an advisor today about STEM-related programs offered at LSC-CyFair. Registration is open for summer and fall courses.