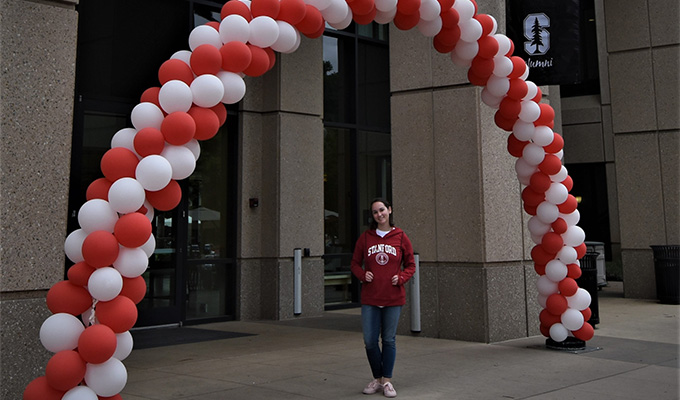 Lone Star College-Montgomery student Abigail Graber is heading to Stanford University for her bachelor's degree. Her acceptance to one of the top three most selective undergraduate programs in the United States was unexpected.
"I came home one evening, checked my phone and I could not believe it," recalled Graber. "I said, 'wait, wait, does that say congratulations?' It was really quite a shock. College decisions are hard for everyone: you get wait listed, you get rejections, you might be lucky enough to get some acceptances here and there, but it is very stressful time."
Graber is a homeschooler. She started taking classes at LSC-Montgomery when she was just 14-years-old.
"Coming to LSC-Montgomery was naturally the next step for me so I could get a real, in-class experience with professors and other students," explained Graber. "It has been a real asset to my education. LSC-Montgomery helped me explore a lot of different areas of interest that a regular high school student could not. I have been able to delve into psychology, which is what I am interested in majoring in at Stanford."
Graber has used her psychology experience in her volunteer work at Texas Children's Hospital in Houston. She works with children in emergency centers. She brings toys to patients and spends time with them to make them more comfortable.
"These interactions I have at Texas Children's Hospital are more in line with what I hope to do with my degree," said Graber. "I am very interested in how different, contemporary therapies work. I am involved with Psi Beta Psychology Honors Society on the LSC-Montgomery campus and recently we attended the Southwestern Psychological Association Convention in Houston, which was eye opening. I was able to learn what professionals are doing right now. Although I am not entirely sure where I want to take psychology, I do know I want to work with children and consider cultural and global differences amongst people. That is what I really love about the field, though, is that you can take it in so many different areas."
These out-of-classroom experiences and Graber's in-classroom experiences at LSC-Montgomery are giving her a leg up on the college experience.
"I feel more comfortable heading to Stanford than I think I would have in just a regular high school," said Graber. "High schools here are so big, but I feel like there is a very individualized attention at LSC-Montgomery. It is a smaller community and you are able to connect with your professors and other students. Here, it is very possible to have a student-professor relationship because all the professors are so dedicated. Every single professor I have taken has gone above and beyond, which I really appreciate. It is nice to be in a classroom with a real college professor, to go to office hours and learn from them directly."
Graber even surprised herself in her LSC-Montgomery classes.
"I learned I actually like math and I am good at it, I never thought those words would come out of my mouth. I can also speak Italian, which is something I always dreamed of being able to do. My Italian classes have been the highlight of my time at LSC-Montgomery and I am going to continue studying Italian at Stanford. I have gotten the college experience at LSC-Montgomery. I am going to be exceptionally challenged at Stanford, I am sure of it; I think every student will be, but I do feel very happy with where I am right now before I go off to my next journey and I have all my professors at LSC-Montgomery to thank."
Lone Star College offers high-quality, low-cost academic transfer and career training education to 99,000 students each semester. LSC is training tomorrow's workforce today and redefining the community college experience to support student success. Stephen C. Head, Ph.D., serves as chancellor of LSC, the largest institution of higher education in the Houston area with an annual economic impact of $3.1 billion. LSC consists of six colleges, eight centers, two university centers, Lone Star Corporate College and LSC-Online. To learn more, visit LoneStar.edu.