Open Auditions
Click here for Music and Drama Scholarship information.
Doubt: A Parable
A Pulitzer Prize and Tony Award winning play by John Patrick Shanley
Announcement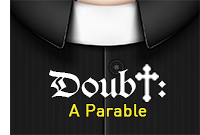 The Lone Star College-CyFair Drama Department is currently seeking actors for the Spring 2015 production of Doubt by John Patrick Shanley. Doubt examines the human tendency to convict others with our own convictions and to doubt others with our own doubts. Winner of the 2005 Pulitzer Prize and Tony Award for Best Play, Doubt is set at St. Nicholas, a Catholic school in the Bronx in 1964. Sister Aloysius, the strict and strong-minded principal, suspects that the young priest, Father Flynn, might be making improper advances toward the school's first African-American student. She enlists the aid of a young teacher, Sister James, in her efforts to validate her concerns and confront Father Flynn. Flynn is as adamant in his denial of any wrongdoing as Sister Aloysius is certain of his guilt. With Sister James and the student's mother, Mrs. Muller, caught in the middle, the priest and principal face off in a battle of wills.
Character Descriptions
Sister Aloysius Beauvier is a nun of the order of Sisters of Charity. In her 50s or 60s, she is watchful, reserved and unsentimental. She's a no-nonsense, hardened administrator, determined to maintain order and tradition. She wears the black bonnet and floor-length black habit of the sisters.
Father Flynn, priest of St. Nicholas Church, has a working-class background. In his 30s or 40s, he is well-liked and particularly popular with the boys that he coached in basketball. He is rather modern in his religious views.
Sister James, the eighth-grade teacher of Donald Muller, is in her 20s. She is a member of the Sisters of Charity and wears the bonnet and habit. She is reserved, but there is "a bit of sunshine in her heart." She cares about her students and wants to think the best of everyone.
Mrs. Muller is an African-American woman, 30s or 40s, working class, weary and wary of the world. She has learned to accept what she has to accept and work with it.
Auditions
Auditions for Doubt: A Parable, by John Patrick Shanley and directed by Jeff Wax, will take place on Monday, January 20 at 7:00 pm with callbacks on Thursday, January 22 at 7:00 pm, in the Black Box Theatre in the Center for the Performing Arts on the Lone Star CyFair campus. Performance dates are March 27, 28, April 10 and 11 at 7:30 pm, and March 29 and April 12 at 3:00 pm. Auditioning actors do not necessarily have to be in the age ranges listed for the characters, but should be able to play in that age range.
For more information, please contact the director, Jeff Wax, at jeffrey.wax@lonestar.edu, or at 281-290-3526.