Open Auditions
Click here for Music and Drama Scholarship information.
A Man of No Importance
A musical from the Tony Award winning team that wrote Ragtime
(Winner of the 2003 Outer Critics Circle Award for Best musical)
Synopsis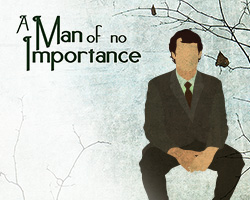 Alfie Byrne is a bus conductor in 1964 Dublin. He and his friends (the passengers on his bus) make their workaday lives extraordinary through literature and performing amateur theatre (with an emphasis onamateur) at a local church. All the while, Alfie is hiding a secret from himself and all around him: he's gay and in love with his best friend, the heterosexual driver of his bus. When Alfie decides to mount a production of Oscar Wilde's Salome with his friends, the church cracks down on his group, barring them from further use of the space. Alfie also discovers that the man he loves is in love with a woman (and a married woman at that).  Feeling that all is lost, Alfie imagines Oscar Wilde encouraging him to succumb to his secret desires. When Alfie is consequently outed, he finds out if his friends and sister can accept him as he is or if he'll lose everything.
Auditions
Open auditions will be on the main stage of LSC-CyFair's Center for the Arts on November 17 (5:00 - 10:00 pm), with callbacks on November 20 (7:45 - 10:00 pm). Those cast in the show must enroll in the Musical Theatre class in Spring 2015, which meets TuTh 6:30 - 9:00 pm. Performances of A MAN OF NO IMPORTANCE will be April 17-26 also on the main stage. Teenage and adult actors of all ages are invited to audition. The musical also includes roles for non-singing actors. Those auditioning for the musical should prepare two contrasting musical theatre songs (unless they're auditioning only for non-singing roles) and a short (1-2 minute) contemporary monologue, all memorized.  Click here for more information and a list of characters and vocal ranges. If you have further questions, please contact the director, Aaron Alon, at aaron.alon@lonestar.edu.
Heroes and Saints
A play by Cherrie Moraga
Announcement
The Lone Star College-CyFair Drama Department is currently seeking bilingual student actors from all backgrounds for the Spring 2015 production of Heroes and Saints by Cherríe Moraga. This searing tragedy centers around the lives of Mexican migrant workers in California valley fields poisoned by pesticides. The toxic water in the local wells has plagued the local children with birth defects and other illnesses.
Auditions
All student actors and performers are invited and encouraged to audition on December 1 and 2 between 5:00 and 9:00 pm, or January 20 and 22 between 5:00 and 9:00 pm. Auditioning students must perform a 1-2 minute memorized monologue, preferably from Monologues for Latino/a Actors available on reserve at the campus library, or for purchase on Amazon.com. Copies of approved monologues from other sources are available to students in TECH 123. Contact Jeff Wax at Jeffrey.Wax@LoneStar.edu for more information, and visit http://litmed.med.nyu.edu/Annotation?action=view&annid=1268 for a full summary of the play.