Commercial Pilot Certificate Level I and Associate of Applied Science in Professional Pilot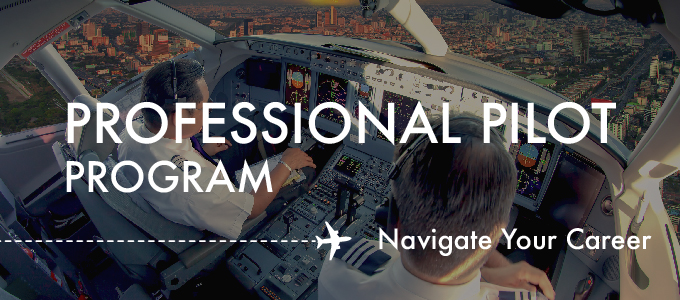 Lone Star Professional Pilot Program Information Sessions
Sessions will feature an overview of the Professional Pilot AAS degree and Commercial Pilot certificate programs. Students have the opportunity to ask about the next steps to enrollment.
Choose your date and RSVP your seat
April 6, 4:00 pm
September 18, 1:30 pm,
RSVP
October 22, 6:00 pm,
RSVP
November 19, 1:30 pm,
RSVP
Prospective students are required to attend an information session as a part of the enrollment approval process. Courses, schedules, costs and funding sources, career information and other topics will be addressed in the
information session.
Professional Pilot AAS degree and Commercial Pilot Certificate Programs
Lone Star College – Conroe Center
Professional Pilot Associate of Applied Science degree and Commercial Pilot certificate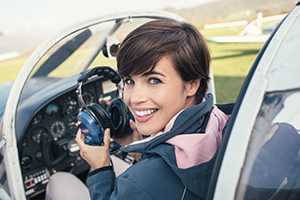 Accreditations approvals:
The Professional Pilot program certificate level 1 and Associate of Applied Science have now been approved by both the Texas Higher Education Coordinating Board and the Southern Association of Colleges and Schools Commission on Colleges (SACSCOC).
Program Launch Status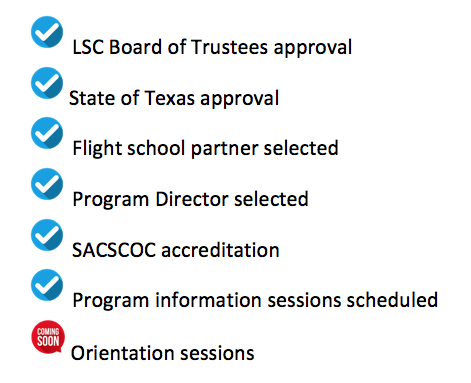 Flight School Partner selection:
Lone Star College has entered a partnership with U.S. Aviation Group to provide flight training for the Professional Pilot Program. U.S. Aviation Group is an FAA-approved Part 141 flight school. They have extensive experience providing collegiate flight training programs. Ground classes will be scheduled at LSC-Conroe Center and will be taught by LSC faculty. Flight classes will be scheduled at the Conroe North Houston Regional Airport and will be taught by U.S. Aviation Group certified flight instructors.
Faculty: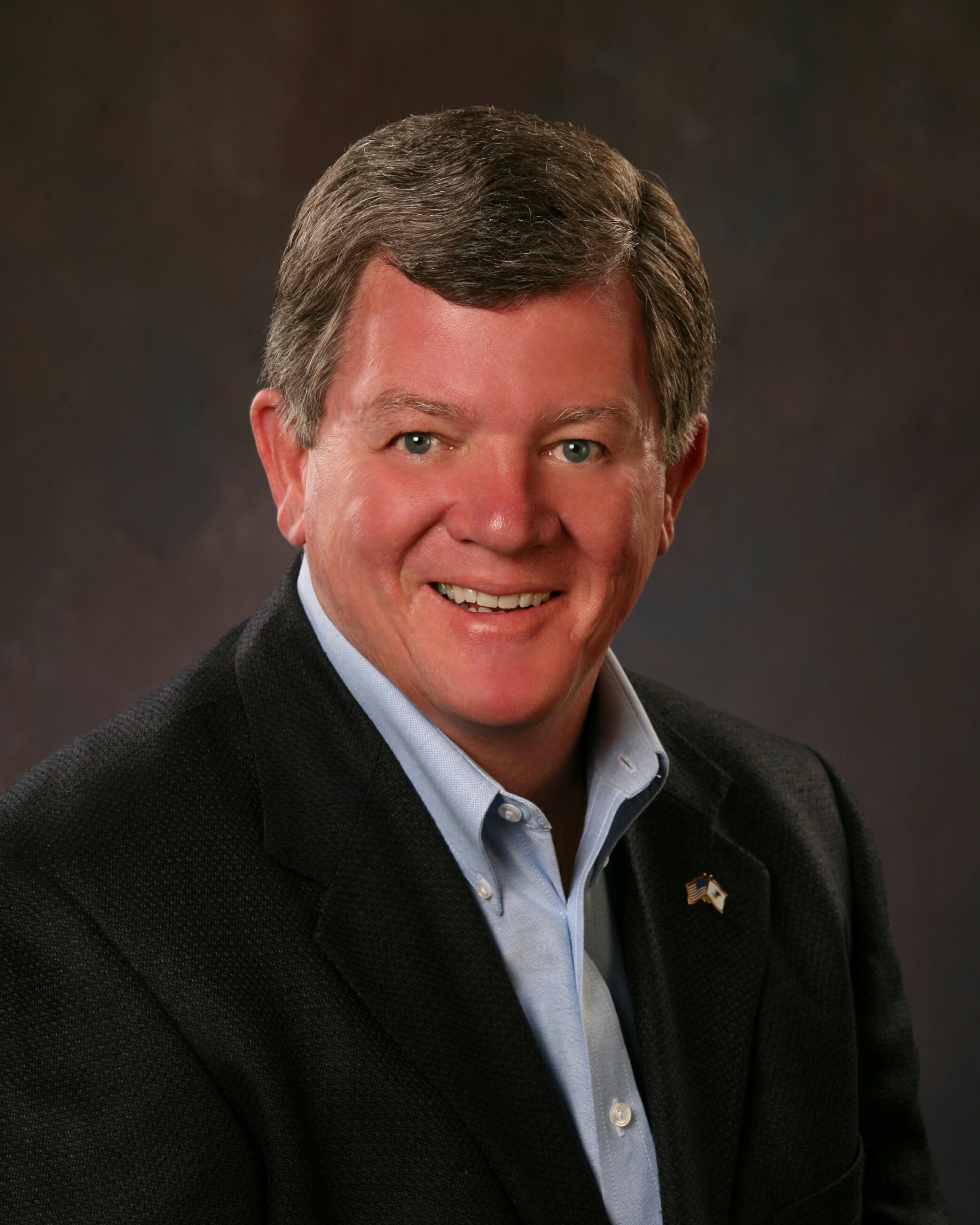 The Program Director is John Blum. Mr. Blum will also serve as an Asst. Professor within the program. He is responsible for program development and operation. He will also be responsible for insuring all academic and flight training standards are met from the admissions process to graduation. Program Director Blum brings a valuable array of professional experiences to the college including Chief Flight Instructor in FAA Part 141 programs, FAA Designated Pilot Examiner in FAA Part 135 programs, and Line Check Airman experience in FAA Part 121 programs. He has just completed a career with United Airlines retiring as a Boeing 777 captain. He has more than 34,000 hours of flight experience flying general aviation as well as large transport aircraft. He has also served for many years as an executive in county government dealing with administrative and budgetary issues. His contact information is as follows:
john.j.blum@lonestar.edu
936-521-4570 (office phone)
Lone Star College – Conroe Center
777 Conroe Park North Drive
Conroe, TX 77303
Office CC124J

An additional Aviation Professor will be added to the program staff yet this Summer along with a Program Coordinator who will insure all flight time is properly scheduled and flown, act as a liaison between academic and flight operations, help to insure all FAA Part 141 requirements are met for each student, insures financial resources are maintained, and other administrative duties in support of the program.
Program characteristics:
Following participation in an information session, prospective students will be asked to schedule an advising session with an LSC advisor. We anticipate an aviation-specific adviser to be added to the staff in June of 2019. Advising sessions will begin in earnest as soon as this new adviser is available.
After the prospective student has met with the adviser and has been determined to be college and financially eligible they will attend an interview with the Program Director, or his designee. This interview will review all of the information submitted by the student to insure eligibility for the program. In addition, an aviation-oriented aptitude test will be administered which may include a basic flight skills presentation in an LSC flight simulator. The outcome of this interview will determine if the applicant is enrollment-ready for the Professional Pilot Program. It is anticipated that entry into the program will be competitive.
Lastly, students who are enrollment-ready will attend a program orientation during which they will be registered for courses. Part of the registration will include placing students into cohort groups which will start the program in the fall, spring and summer terms. Each cohort group will include 20-25 full-time students who will progress through a block of 4-5 classes in the fall and spring terms; 2 classes in the summer terms. Classes will be offered in the day. There will not be a night or part time cohort at the program initiation. However, flight training will be conducted at night to meet FAA experience requirements.

Awarding credit for prior learning assessment (PLA):
Several prospective students have asked about receiving credit for previously-earned FAA certifications. A proposal is being presented to the college system academic leadership requesting to award college credit for FAA certification held by pilots who are actively flying under the certificates. Following approval of the proposal, updates will be posted to the Aviation web site and the PLA website for Lone Star College.
Pre-enrollment to do list:
A thorough investigation of a flying career is a necessary step prior to enrollment. Additionally, there are some steps to complete prior to starting pilot training. Please use the following checklist to prepare for enrollment in pilot training classes.
Attend an LSC Professional Pilot information session.
Apply for admission to Lone Star College.
Show college-level readiness in Reading, Writing and Mathematics.
Get a class II medical certificate from an FAA medical examiner.
Show proof of U.S. citizenship. (Students who are not US citizens must qualify for the FAA alien flight student program.)
Arrange your finances so you have ready access to pay the flight class fees. • Complete a FAFSA application. • Review scholarship opportunities. Start by looking at AOPA.org and UAA.org.• Research Sallie Mae, Plus, and Discover loans. Approval requests for VA assistance are in progress.
---
The Associate of Applied Science degree in Professional Pilot is designed to prepare the individual for a career as a commercial pilot by earning the Private, Commercial, and Flight Instructor Certificates along with the Instrument Rating.with FAA certifications of Private Pilot, Instrument, Commercial, and Certified Flight Instructor. The degree is awarded to students upon successful completion of a common core of general education courses and a preset selection of aviation classes closely mapped to the needs and demands of the aviation industry. The curriculum is sequenced with FAA ground and flight classes scheduled in the first semesters of program so a student is prepared for employment as a Certified Flight Instructor while completing the general education requirements for the degree and prepare for further FAA certifications necessary to fly commercial flight operations. The general education requirements provide the foundation for students who want to continue their education to a Bachelor degree.

The Commercial Pilot certificate is designed for degreed students who want to take the first step toward a career in Aviation. Only students who have already earned either an Associate degree or a Bachelor degree may enter the certificate program. However, certificate students may choose to apply credits earned in the Commercial Pilot Certificate to the Professional Pilot Associate of Applied Science degree. The level 1 certificate includes the course work and flight training needed to prepare for FAA check rides in pursuit of the Private Pilot and Commercial Certificates with the Instrument Rating. Instrument, and Commercial certifications.

Students enrolled in the Commercial Pilot or Professional Pilot AAS degree will pay a liability insurance fee during all their semesters of study. Fees for flight courses are exempt from the Hazelwood Act. (Texas Administrative Code, Title 40, Part 15, Chapter 461, Subchapter A, Rule 461.30)All flight courses are subject to FAA rules and regulations (CFR Title 14). Possession of current FAA medical certification is required for all flight courses. Students must meet the requirements of Texas Success Initiative (TSI) (Compliant) to enroll in program. Student must attend mandatory, scheduled information and orientations session prior to enrollment and must be approved by department representatives to register in any AIRP course.
Interested in enrolling?
The following are recommended next steps for prospective students:
Learn more about becoming a member of the next generation of airline pilots at the ALPA.org website, Cleared to Dream.
Review FAA guidelines for student pilots; (FAA.gov)
Demonstrate college-level readiness in reading, writing, and mathematics;
Learn about financing options;
Review the Lone Star College admissions checklist or International F1 student checklist.
Get on the program contact list by completing the form below.
Prospective students: to keep updated on program development, please bookmark this web page or submit this interest form.
Interest Form & Questions