Senior Associate Vice Chancellor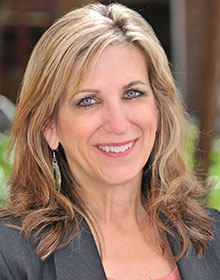 Linda Head oversees the Division of External and Employer Relations at Lone Star College (LSC), serving as Senior Associate Vice Chancellor.
Her responsibilities in Houston cover related activities at the six LSC campuses and in partnership with 100's of corporate and healthcare business partners. Lone Star College serves over 90,000 students, 7,000 employees and 5,500,000 square feet of physical space.
Linda has spent her community college career developing a trained workforce for businesses and industry by developing a highly trained talent pool. Under her leadership and direction, Lone Star College embraces a comprehensive, transparent, collaborative approach to develop competency-based workforce programs designed through a strong partnership of industry advisors and fellow educators, validated by labor market intelligence. This ensures that LSC delivers the associate degrees and certificate programs that prepare citizens in the Houston area for today's careers providing the opportunity for a career pathway from entry-level to leadership roles in healthcare, emergency services, oil and gas, manufacturing, IT and others. In addition to AAS and certificate career program development, she leads over 9,000 non-credit students and instructors at 14 locations, student job placement, adult basic education, English as a Second Language, the Lone Star Corporate College, and the development of workforce international projects. Three years ago she & her team led the master planning for over $3M in workforce training facilities, marketing workforce programs, and the workforce student advising team.
Her professional career began in Houston in 1980 working as a college recruiter, office automation specialist then corporate trainer for Tenneco Oil. Her career with LSC started in 1986 as a college professor where she was promoted to a variety of administrative positions to include department chair and academic dean and has been in her current role for ten years.
Linda is involved in various professional, community, state and national organizations. She served as immediate past chairman of the board for The Woodlands Chamber of Commerce, past-president for the National Association for Continuing Education and Training board, appointee to the American Association of Community Colleges Commission for Workforce & Economic Development, appointee to the national Community College Workforce Education Collaborative, steering committee member for the Community College Petrochemical Initiative (an ExxonMobil funded project), executive council member for the Greater Houston Partnership UpSkill Houston, Greater Houston Women's Chamber of Commerce, board member and served as an appointee to the Texas Governor's Advisory Council for Economic Development Stakeholders, 2010 - 2013. She is regularly sought as a presenter at state and national conferences for her expertise on corporate training solutions, community college career pathways and program development, and women's issues and provides consult to other community college leaders across the U.S.
Linda Head has presented on workforce training and community college leadership to over 200 conferences and meetings as associate vice chancellor in Houston, across the United States and internationally. Meetings such as the American Association of Community Colleges, the National Council for Workforce Education, the National Skills Coalition, the U.S. Mayor's Council, the International Economic Development Council, and in countries such as India, Malta, Brazil, Vietnam, and Indonesia. She earned her Master of Science degree in occupational technology majoring in corporate training from the University of Houston, and a Bachelor of Science degree in business administration majoring in Human Resources from Indiana University of Pennsylvania.
Her husband, Steve, has served as the Lone Star College chancellor since 2014. Their four children are lifelong learners and working professionals in Houston in careers from oculoplastic surgeon, homemaker, mortgage broker business owner and high school family therapist.
Awards and Achievements (2017-2018)
One of Houston's 50 Most Influential Women
Houston Area Women's Chamber of Commerce, Trailblazer Award
Chair, Lone Star College Foundation, Employee Giving Campaign
Interfaith of The Woodlands, Five Who Share, Service of Excellence in Education recipient