Service Learning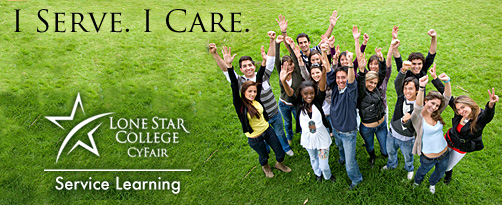 What is Service Learning?
A teaching method that combines community service with academic instruction as it focuses on critical, reflective thinking and civic responsibility.
Instead of research papers, homework and exams, students perform organized community service that addresses community needs and then relates that service to the course in the form of reflection.
Service Learning - Student Requirements
Attend a Service Learning Orientation
Sign a Liability Waiver Form
Attend Reflection Session
How do Faculty perform a Service Learning project?
Find and select a non-profit agency that addresses a community need.
The SL project needs to directly address a need at the agency while using information that is taught in the classroom based on the class Learning Outcomes.
One major aspect of SL is that students need to perform some type of reflection activity that directly relates their experiences at the agency with the content taught in class. This can be in the form of a journal, paper, oral presentation, group project, etc.
If students perform more than 15 hours at the agency they will receive an "SL" designation on their transcript.
Click here for volunteer opportunities.
Service Learning Faculty Forms
Requesting Service Learning Designations
Faculty may request designations and submit hours completed for Service Learning by emailing the completed Service Learning Reporting Form to one of the contacts below:
Hollander Thompson
Director Educational Services, Academic Affairs, LSC-CyFair
Hollander.D.Thompson@LoneStar.edu
281.290.3516
For more information about service learning courses contact:
Ronnie Nespeca, Service-Learning Director, LSC-CyFair
Ronald.A.Nespeca@lonestar.edu
281.290.3289