Student Government
Our Mission/Purpose Defined
The Student Government Association (SGA) represents the interest of the students by serving as a liaison between the colleges administration and the community. Our mission is to earnestly represent the interest of the students enrolled at LSC-CyFair, Cypress Center, Fairbanks Center, campuses in order to increase the activity of student focused decision-making while supporting students and student run organizations in all of their academic and community endeavors.
SGA is the governing body over all other recognized student clubs and organizations and serve an advisory capacity to Student Life in planning, scheduling, facilitating, and evaluating student activities/events.
Anytime that you have a question, concern, or suggestion for the college, SGA is ready to hear about what you have to say; our doors are always open.
Interested in being an officer with SGA? 
Please complete the following application and drop it off at the Center for Student Life (LRNC 141).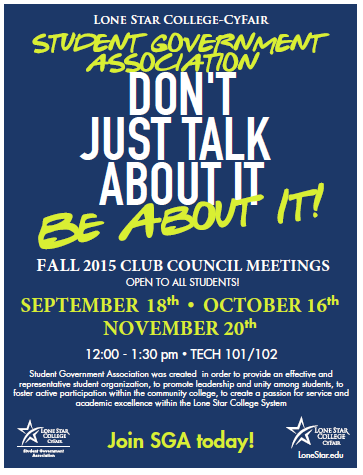 Contact the Student Government Association
Maria Yoan Gallegos, SGA President
Phone: 281.290.3442
Email: Maria.Gallegos@lonestar.edu
Office: LRNC 143