Student Government Association
Our Mission/Purpose Defined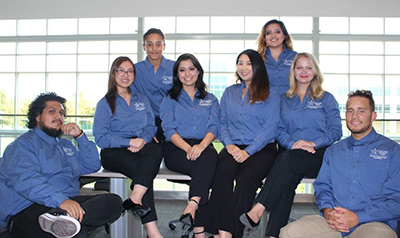 The Student Government Association (SGA) represents the interest of the students by serving as a liaison between the college's administration and the community. Our mission is to earnestly represent the interest of the students enrolled at LSC-CyFair, LSC-Cypress Center, and LSC-Fairbanks Center campuses in order to increase the activity of student-focused decision making while supporting students and student-run organizations in all of their academic and community endeavors.
SGA is the governing body over all other recognized student clubs and organizations and serves in an advisory capacity to Student Life in planning, scheduling, facilitating, and evaluating student activities/events.
Any time that you have a question, concern, or suggestion for the college, SGA is ready to hear about what you have to say; our doors are always open.
Fall 2017 - Spring 2018 Meetings
Fall 2017

September 15
October 20
November 17

Spring 2018

February 16
March 23
April 20
SGA Club Council Meeting Minutes
Please see the links for SGA meeting minutes below:
SGA Office Hours
Location: CASE 102E
Hours:
Monday - Thursday: 8:00 am - 7:00 pm
Fridays: 8:00 am - 5:00 pm
If an SGA executive officer is not available at your desired time, please email StudentGovernmentAssociation@lonestar.edu to schedule a meeting.
Student Government Officers
Become an SGA officer.
Jennifer Gonzalez
President
Brittany Vasquez
VP of Centers
Elora Molloy
Executive VP
Crystal Huynh
Secretary
Alexis Jones
VP of Student Life
Amie Vo
Treasurer
Devon Pittarelli
VP of Outreach
Giovanni Gonzalez
Historian
Contact the Student Government Association
Maria Yoan Gallegos, SGA President
Phone: 281.290.3442
Email: Maria.Gallegos@lonestar.edu or StudentGovernmentAssociation@lonestar.edu
Office: LRNC 143