LSC-Tomball Drama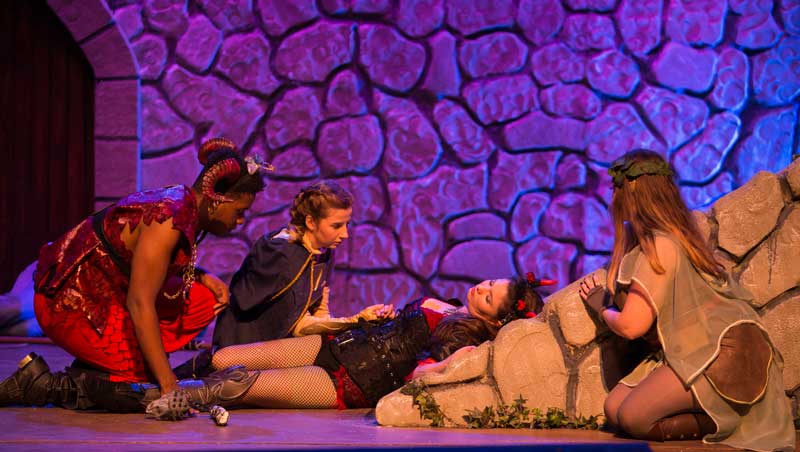 The LSC-Tomball Drama Department offers a wide variety of theater classes that gives both majors and interested students the opportunity to engage in real world application through theatrical productions. Hands-on training is available to students with numerous opportunities to learn and participate in acting, directing, scene design, light and sound design, make-up design, and costume design. The department also has multiple stage productions for our audiences including comedies, dramas, and summer camps for children.
Students may earn an Associate of Arts degree while completing the drama curriculum. Rigorous study combined with actual hands-on experience prepares our theater students to continue their formal theater education at a four-year university or to begin a professional career. There are limitless possibilities as far as what kind of careers a person could obtain: Performance, Design, Theater Management, Technical Theater, Dramaturgy, Parks and Recreation, Radio, Television and Film, Counseling, Law, Arts Management, Primary, Secondary and Higher Education, Public Services, and Social Services are only a few diverse areas of employment.
Area high school students interested in Theater may apply to be a camp counselor for our annual childrens summer camps. Earn college credit while learning the ins and outs of working in our beautiful Performing Arts Center. Please contact Drama Faculty Jill Brumer for more information.
2019 Theater Summer Camp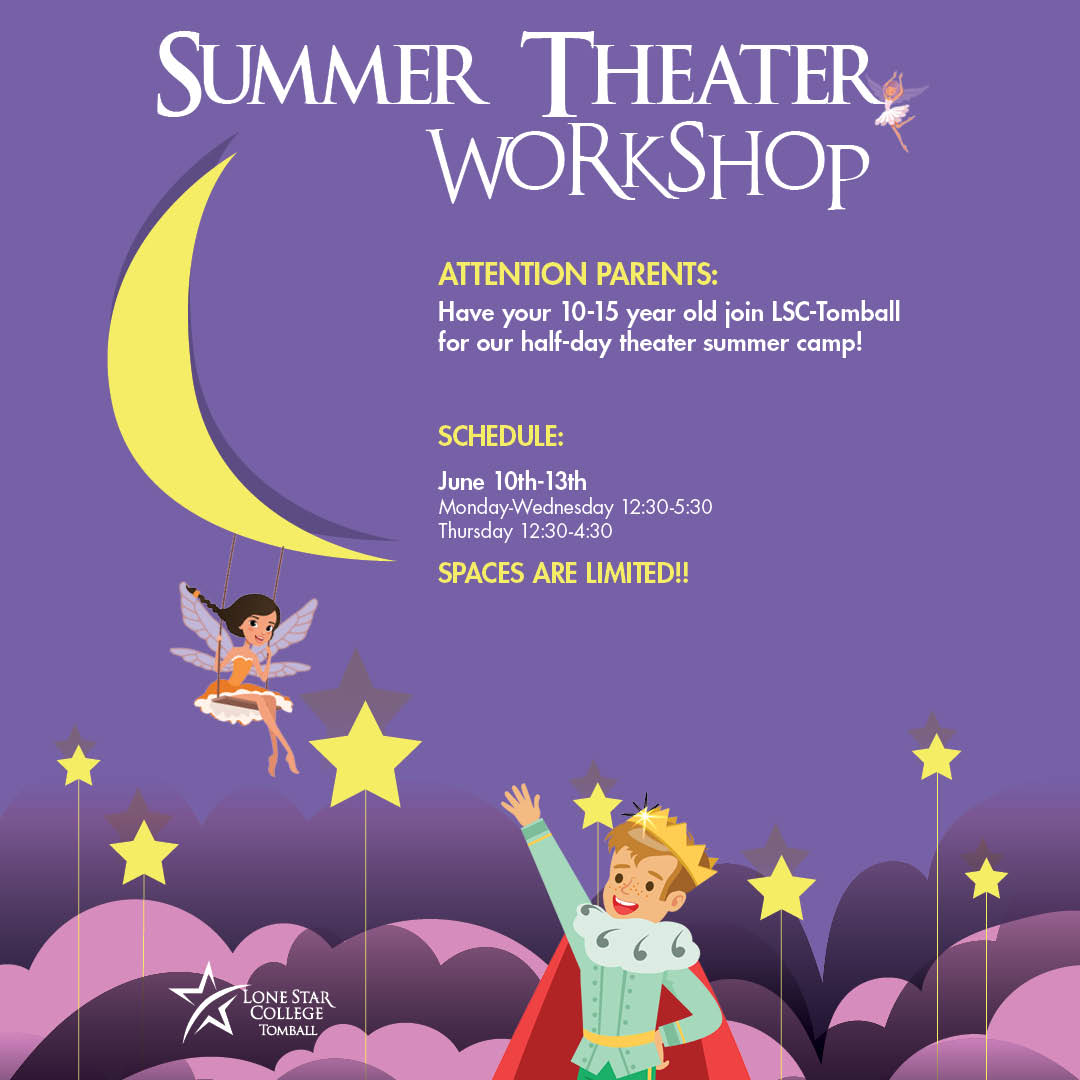 Parents enrolling their 10-15 year old in our 2019 Theater Summer Camp (June 10th-13th), please complete registration online.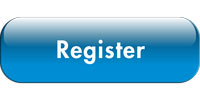 Parents and Guardians: After registering your child online, please stop by campus to attach your signature to the paperwork. According to Lone Star College System, minors participating in a college program must have written permission from their parent or legal guardian. In-person registration MUST occur before 5pm June 3rd or your child may lose their spot. In-person registration can be completed Monday-Thursday, 11am-2pm at the Black Box Theatre box office (Room E171) or by contacting Prof. Brumer to select a different weekday time.
Camp Details
Ages 10-15; no previous theater experience necessary!
Camp runs Monday through Thursday, June 10th-13th, 2019 from 1:00pm to 5:00pm.
Campers must be dropped off at the Performing Arts Center at Lone Star College-Tomball between 12:45-1:30pm each day.
Campers must be picked up at the Performing Arts Center at Lone Star College-Tomball between 4:45-5:30pm each day.
Summer camp ends on Thursday, June 13th with a live performance of William Shakespeare's "A Midsummer Night's Dream," starring your LSCT actors, and including involvement from all of our campers!
Every day, your child will have the opportunity to work with Lone Star College-Tomball's impressive group of student actors and faculty members, learning all the tricks of the trade.
Parents and family are welcome to join us for the show, "A Midsummer Night's Dream" by William Shakespeare, on Thursday, June 13th at 2pm!
Half-day camp price: $50 for the first child, $25 each additional family member. Your registration fee goes to fund Drama scholarships for worthy Lone Star College students.
Campers are encouraged to bring a resealable bottle of water and to dress in clothing that allows you to MOVE!
Space is limited; reserve your spot for the most fun week around!
Contact Information
Prof. Jill Brumer, Drama Faculty
Email: jill.brumer@lonestar.edu
Telephone 281-401-1873