Washi 5
We would like to invite you to the grand opening of "Washi 5" on June 4th, 5:30. This is our first international group show featuring works inspired by Japanese handmade paper. Guests of Honor Yoshiro Igarashi has traveled from Japan to be with us. And Japanese Consular General Tsutomu Osawa will also be here. Come and celebrate with us, have some sushi, and enjoy Okinawan performance group "Ryufu" and see the newest work of these 5 artists.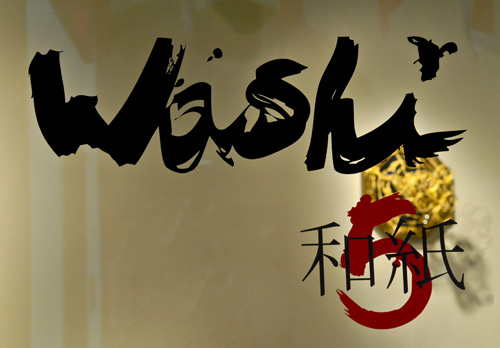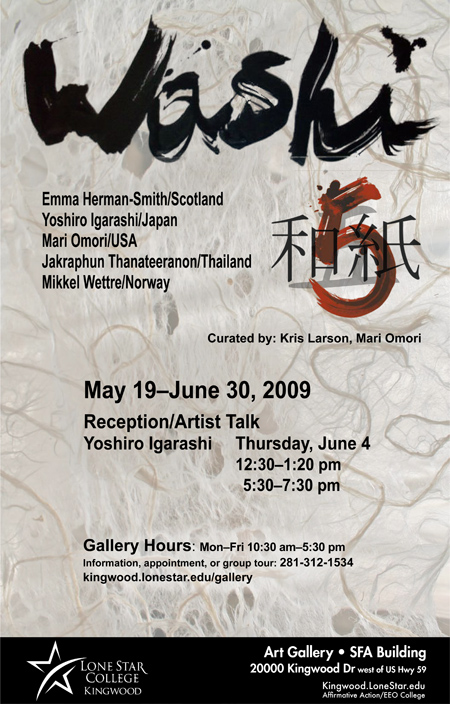 Washi 5 Art Exhibit Reception
Thursday, June 4, 2009, Lonestar College Kingwood celebrated the "Washi 5" art exhibit featuring five international artists and their interpretations of the traditional Japanese paper in contemporary pieces.
The artists had attended an Artist Residency in MinoCity, Gifu-Prefecture, Japan where washi-making has been the local trade for more than 700 years.
The reception was attended by two of the artists: Lonestar College Professor Mari Omori, who helped arrange the exhibit and Yoshiro Igarashi, a Washi artist working in MinoCity who came to Texas from Japan to do workshops for art students at the college in conjunction with the exhibit.
Consul-General Tsutomu Osawa gave remarks at the beginning of the reception, noting that he hoped the exhibit would lead to a cross-cultural and international understanding through art.
Mr. Igarashi proved himself to be a multi-faceted artists as he performed Okinawan music alongside the Houston-based music group Ryufu who performed taiko drumming and Okinawan dance routines at the reception.
After the musical performances, Igarashi described the work produced with Texas students. Following Igarashi's lecture, he joined Ryufu to end the reception with more collaborative music.
The Washi 5 exhibit is on display from now until June 30 at LSC-Kingwood, 20000 Kingwood Dr., Kingwood, TX 77339