Inaugural Champion of Diversity and Inclusion Award Announced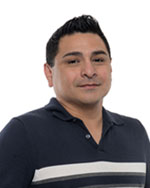 Casey Garcia
Professor of Speech and Humanities
The LSC-North Harris Faculty Senate, Professional Support Staff Association (PSSA), and Civic Engagement Committee are honored to announce that Casey Garcia, professor of Speech and Humanities, is the first-ever recipient of the Champion of Diversity and Inclusion Award.
The inaugural award celebrates faculty and staff who are committed to promoting diversity through teaching and learning by creating a warm and welcoming environment for all students.
Each fall, members of the LSC-North Harris faculty, staff, deans, department chairs, administrators, or students nominate candidates for the award before the winner is selected by a rotating committee.
"This award is significant for our campus because it will allow our students to see visual images on campus that represent our many faculty and staff members who work hard to promote diversity and inclusion inside and outside of the classrooms," said Kimberlee Ball, Faculty Senate president.
Garcia, a proud Chicano, learned about the importance of diversity and inclusion from an early age growing up in the Rio Grande Valley of Texas. His life mission to help students succeed to the greatest of their abilities, while also constantly recognizing that the true power of success resides in expressing oneself unapologetically and viewing inclusion as the primary means of empowerment, is evident after receiving numerous student nominations for this year's award.
"I was deeply humbled when I first heard I would be receiving the inaugural Champion of Diversity and Inclusion Award," Garcia said. "The LSC-North Harris family is comprised of students, staff, administrators, and professors and I believe, deep in my heart, that every single one of us has an important role to play in the creation of a better society, in hopes of one day living in a more accepting and a more caring environment."
Currently, Garcia educates students in the Humanities, Speech, and Drama in a safe and fertile learning environment. He also serves as the head coach of the LSC Model UN Team, comprised of students from four LSC campuses. Garcia hopes that by learning of the complex world we live in, students will be inspired to be better global citizens, appreciate diverse cultures, and view inclusivity as a personal trait of high regard.
Garcia's deservedness of the Champion of Inclusion and Diversity Award is evident when reading student comments from his nomination.
"Professor Garcia has been one of the most wonderful instructors I have had in my entire learning career. I always feel safe in his classroom; I feel seen, I feel validated, I feel heard. He gives all his students the chance to grow and express themselves and takes into consideration issues such as race, gender, sexual orientation, religion, and other cultural differences."
"Through hard times, walking into his classroom would brighten up my day and make me feel welcomed. Specifically, to my humanities course, he has taught me a lot about my background and included everyone in our discussions accepting everyone's statements."
Make LSC part of your story.