Academic and Workforce Success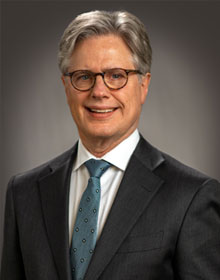 Dwight Smith, Ed.D. serves as Chief Academic Officer at Lone Star College as the vice chancellor for Academic and Workforce Success with responsibilities for Academic Affairs, Office of External and Employer Relations, and Honors and International Education.
Dr. Smith holds a Ed.D. in educational psychology from Rutgers University, an M.S. in Higher Education Administration from Southern Illinois University Carbondale and a B.A. in Economics and Psychology from Blackburn College. He has published about validity issues concerning the measurement of student learning and has contributed to accreditation and quality assurance through service at regional accrediting agencies. Dr. Smith serves as the LSC Accreditation Liaison with the Southern Association of Colleges and Schools Commission on Colleges.
Academic and Workforce Success promotes student success through LSC's Faculty Qualities of Excellence, the new bachelor's programs, and partnerships with universities and employers.
The Office of Academic Affairs administers a broad range of operations related to supporting the instructional operations of the college. Led by the Associate Vice Chancellor of Academic Affairs, staff members oversee operations, programs, and initiatives in support of the completion and success of our students through academic planning, assessment, curriculum development, compliance, academic policy development, learning support, and accreditation. Academic Affairs works closely with the instructional leadership at each campus.
Our mission is to impact the economic vitality and continued success of corporations and small businesses in the greater Houston area by developing a highly skilled talent pool for employers. We also offer specialized language and short-term workforce certificate programs of study, other specialized workforce programming and grants. Veterans can also find assistance from our staff.
Honors and International Education
Providing a unique integrated model of college honors and international education. The goal of the division is to support LSC Mission to be "nationally recognized, globally connected, and locally focused" and to enable students to thrive in a diverse, global society.
With a focus on undergraduate research, The Honors College at LSC offers a wide range of opportunities for honors students—from incoming freshman wanting to graduate with an Honors AA or Honors AS degree, to high-achievers seeking to graduate with Honors distinction, to students interested in earning individual honors course credit.
The International Education department is responsible for international student services, internationalized curriculum, and study abroad. In addition, we offer faculty exchanges and collaborative partnerships with international governments or universities abroad.
Make LSC part of your story.