LSC-Houston North Puente Project

Go from "Yes you can!" to "Yes you did!"
Puente means "bridge" in Spanish, and we are here to help you bridge the gap from here to your future!
The Puente Project has been around for 40 years in California and now Texas. It was designed specifically to help community college students like you succeed, by using proven approaches that focus on the student.
How can Puente benefit our students?
Priority Registration
Small learning communities
Culturally relevant teaching
Family inclusion
University visits
Transfer Support
Mentorship
Develop Leadership Skills
These paired classes and small learning groups help students meet and engage with their classmates as well as their instructors. And, they help build an inclusive community—one that values what you bring to our college campus and that utilizes family, mentors, and student strengths to generate success.
Talk to an advisor today and find out about Puente classes!
For students starting college in January or August who need EDUC 1300 and ENGL 1301, students can join our one-semester program, and be a part of the LSC-Houston North and Puente family!
| Fall Schedule | 8wk1 • 8/29 – 10/19 | 8wk2 • 10/26 – 12/17 |
| --- | --- | --- |
| T/TH • 9-10:20 a.m. | EDUC 1300 | GOVT 2305 |
| T/TH • 10:30-11:30 a.m. | ENGL 1301 | HUMA 1301 |
Contact the Puente Program Chair for more information at Christopher.Hinojosa@LoneStar.edu.
---
Mission
Puente Project mission is to increase the number of educationally underrepresented students who enroll in four-year colleges and universities, earn degrees and return to their communities as leaders and mentors to future generations.
History
The Puente Project is an inter-segmental program that is co-sponsored by the University of California and the California Community College Chancellor's Office. This national award-winning program has improved the college-going rate of tens of thousands of California's educationally underrepresented students for more than thirty years. The model's interdisciplinary approach containing writing, advising, and mentoring components expanded to Texas in 2012. The Texas Puente Project's goal is to prepare community college students for success at four-year universities and beyond.
LSC-Houston North Links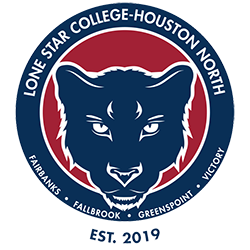 Questions? We're here to help!
HN-Outreach@LoneStar.edu.
LSC-HN Library Services
Make LSC part of your story.