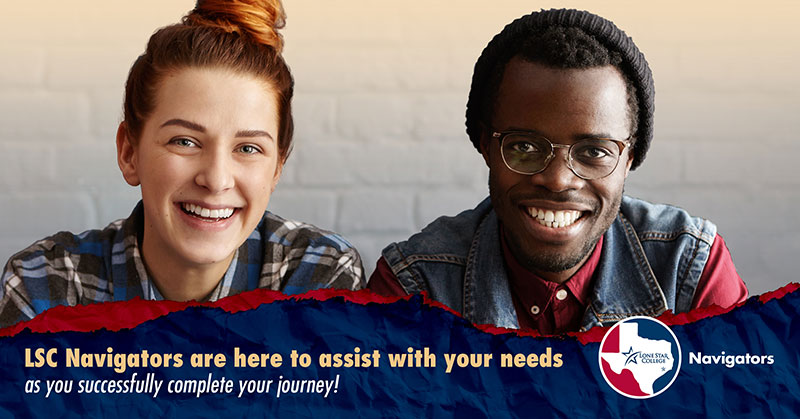 Mission
The mission of the Lone Star College Navigators is to create a college-wide network of support to assist students who grew up in the foster or adoptive care system or are homeless to achieve educational success by focusing on recruitment, retention, and graduation.
LSC Navigators are a group of professionals who come from several departments inside the college, including advisors, CIS, Business Office, Financial Aid, and more, to assist with your needs as you successfully complete your journey. If you are a student who was involved in the foster care system and you're now attending Lone Star College or thinking about attending Lone Star College, we're here for you. If you need assistance, please do not hesitate to contact us at LSC-Navigators@LoneStar.edu
The Texas Higher Education Coordinating Board partnered with Sam Houston State University, the Texas Department of Family and Protective Services (DFPS), and other Texas agencies to create a short video describing the eligibility criteria for the Foster Care College Tuition & Fee waiver and how it can be used in Texas. The video is called, THECB Tuition and Fee Waiver.
More information is also located at the College for All Texans website for Types of Financial Aid – Exemptions and the DFPS State College Tuition Waiver webpage.
Exemptions are a type of financial assistance allowing some Texas residents to attend a public college or university in Texas without paying tuition or, in some cases, tuition and fees.
To receive a state exemption or waiver follow the steps below for providing verification of eligibility:
1. Foster Care Exemption or Adoption Exemption Form K-908-1810* from the Texas Department of Family and Protective Services (TDFPS) must be provided to Lone Star College as written proof verification of eligibility. This form can be obtained from the DFPS staff including the student's PAL staff.
2. Complete Lone Star College's Acknowledgement Agreement for the Foster Care and Adoption Exemptions form. This form can also be found by logging into MyLoneStar > Student Tile > Student Homepage > Links (on left) > Quicklinks: "How-To" Documents & Forms > Financial Information folder.
3. Submit both required forms listed above to your LSC campus business office one week prior to classes starting. These two forms must be submitted at the start of each term a student attends Lone Star College. Exemptions and waivers are applied up to the Official Day of Record of a term. They cannot be applied to a students' accounts retroactively.
*Students may continue using Form K-908-1003.
Contact your campus business office for more information or contact the Business Office through Live Chat.
Live Chat navigation: Log into your MyLoneStar account > Student Homepage > Live Chat Support > Select your campus or department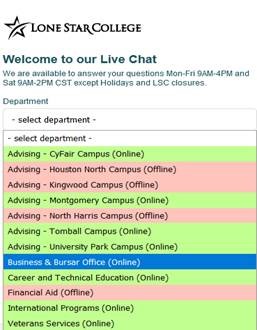 As a student at Lone Star College, there are numerous resources provided at each campus that you will need while on your journey to graduation.
View Lone Star College Resources
The community surrounding Lone Star College is vast and supports many services that may be beneficial to you as a student.
Need help now? Contact 2-1-1 Texas
2-1-1 Texas HELPLINE provides free and confidential information and referral services to those in need, 365 days a year, 24 hours a day. Community resource information includes: Basic Needs • Senior Services • Veterans Services • Child Care • Employment Services • Health Care • Legal Services • Disaster Resources If you need help, dial 2-1-1 or 1-877-541-7905. Community resource information is also available online at 211Texas.org.
Review the THECB video by clicking the link below for more information on the tuition and fee waiver.
Contact your Campus Navigator today!
LSC-CyFair
LSC-Houston North
LSC-Kingwood
LSC-Montgomery
LSC-North Harris
LSC-Online
LSC-Tomball
LSC-University Park
Navigators Advising Representative
Evelyn Flores
281-290-3529
Evelyn.M.Flores@LoneStar.Edu
Vanessa Nguyen
832-782-5018
HN-Navigators@LoneStar.edu
Victoria Southworth
281-312-1547
Victoria.B.Southworth@LoneStar.edu
Enar Bashimova
936-271-6380
Enar.Bashimova@lonestar.edu
Raymond Craft
281-618-5452
Raymond.l.Craft@lonestar.edu
Claudia de Luna
346-395-3226
Claudia.deluna@LoneStar.edu
Richard Lewis
281-357-3664
Richard.Lewis@LoneStar.edu
Diego Lira
281-290-2951
Diego.E.Lira@LoneStar.edu

Navigators Financial Aid Representative
India Powell
281-290-5030
India.Powell@lonestar.edu
Sheila Stedham
281-836-9620
Sheila.c.Stedham@lonestar.edu
Michael Zapata
281-318-4378
Michael.p.Zapata@lonestar.edu
Alexandra Cabezas
936-273-7416
Alexandra.m.Cabezas@lonestar.edu
Priscilla Valenzuela
281-618-5646
Priscilla.Valenzuela@lonestar.edu

Financial Aid Contact Center
281-290-2700
FACC@LoneStar.edu

Kylan Voss
281-655-3606
Kylan.w.Voss@lonestar.edu

Gabriel Yanez-Gamez
281-290-2835
Gabriel.J.Yanez-Gamez@LoneStar.edu
Make LSC part of your story.