MUEN 1151 4001 – M/W 12:00-2:20pm – 1 credit hour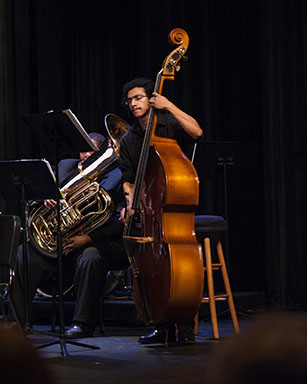 The Chamber Singers is a group of talented singers selected by annual audition. Under the direction of Dr. Mark Marotto, the Chamber Singers are the premiere vocal ensemble at the College and tour regularly around the region including trips to New Orleans, Austin, Dallas, and San Antonio. The ensemble specializes in a varied a cappella repertoire ranging from the Renaissance to contemporary popular song.
Admission into Chamber Singers is by audition only and consists of:
1. Perform a solo of your choice (art song, aria, or folk song preferred)


Bring two copies of your music. An accompanist will be provided.
2. Range test
3. Demonstrate excellent sight-reading ability
The Chamber Singers adhere to the highest level of professional responsibility. Admitted members are expected to prepare their parts individually outside of rehearsal and be present for 100% of rehearsals and performances. A schedule for the term will be provided at the start of the semester. Unexcused absences will not be tolerated and are grounds for dismissal from the ensemble.
AUDITIONS WILL BE HELD at the beginning and end of each semester.
For more information contact: Dr. Mark Marotto 936.273.7270 or Mark.Marotto@LoneStar.edu.