Private Lessons
Private lessons are the most important part of your music studies.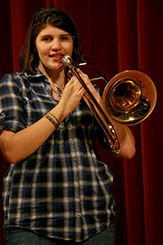 Admission to 4-year programs is based almost entirely on your performance at an audition
In the real world, hiring for jobs is frequently based on performance.
Musicians are first and foremost performers – and that's what private lessons are about!
Your private lesson teacher will share more specific expectations with you. But, for a 2-credit hour (one hour per week) lesson you should expect to spend at least 5 to 10 hours in preparation over the course of the week.
Musicians are created in practice rooms, as a result of regular, persistent practice. In the professional music world, talent will not mask lack of preparation or practice.
In addition to the lesson time, your MUAP study includes:
Performance Master Class
Wednesdays at 2:30-3:30 for Wind/Brass/Piano/Guitar/Strings/Percussion
Thursdays at 2:30-3:30 for Voice
Perform for your peers, learn skills of stage decorum, and get experience in a safe setting before performing on stage in front of an audience.
Student Recitals
Selected Fridays at 1:00.
These recitals are popular with college staff, faculty, and students as well as members of the community. You will perform a piece or pieces chosen by your teacher in our Center for the Arts at a student recital.
Juries
A performance for Montgomery music faculty at the end of the semester. Your grade on this will be factored into your overall MUAP grade. Your private instructor determines how the jury grade factors into your final course grade.