Student Ambassadors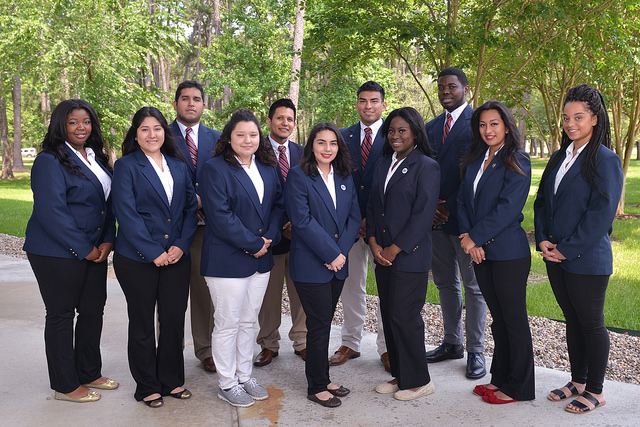 The Student Ambassador Program selects up to 12 students each fall semester to be Student Ambassadors for the academic year. Student Ambassadors are the student representatives of LSC-North Harris who serve as liaisons between current students, prospective students and the surrounding community. Their activities include volunteering at several college events, giving tours of the college to visiting high school students and sharing their experiences at LSC-North Harris.
Benefits of being a Student Ambassador:
As an Ambassador, you have the opportunity to serve the institution and work with and meet students from a diverse background. This is also an opportunity to acquire, use and sharpen leadership skills.
In addition, you will receive:
A merit scholarship of $200 each semester
Opportunities to meet college and community leaders
Service Learning Hours for your official transcript
Experience in public speaking and community relations
Opportunities to organize and manage projects that utilize leadership skills
A Student Ambassador jacket, dress shirt and golf shirt as well as a blazer
Recognition of belonging to an elite group of students on campus
Participation Requirements:
To be eligible to become an Ambassador, you must:
Be a student enrolled in a minimum of 6 credit hours in both the Fall and Spring semesters
In good standing with the college
A GPA minimum of 2.5
Be a good communicator
Enjoy meeting people
Take pride in representing the college
Be able to commit to being available on Fridays
Commit 5-10 hours of service per week
A desire to assist the college and fellow students through service and leadership
Ability to commit to serving as an Ambassador for Fall 2016 and Spring 2017 semesters
Commitment to assist with activities that may be scheduled during the day, evening and weekends
Page Highlights
Become a Student Ambassador
Click Here to download the Student Ambassador application. Applications will be accepted electronically to an e-mail address below or in person. The deadline to apply for the Fall 2017 academic semester is September 29, 2017. The deadline to apply for the Spring 2018 academic semester is February 13, 2018.
Contact the Student Ambassadors
David Smith
ACAD-168A
Phone: 281.765.7929
Rebecca Stephenson
LIBR-114D
Phone: 281.618.1176