LSC-North Harris Clubs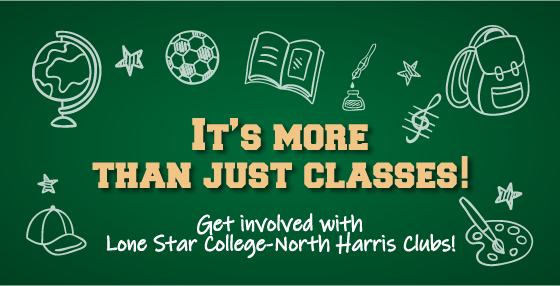 Getting involved on campus is easy. Lone Star College-North Harris offers many organizations for students interested in service, cultural enrichment, music and the arts, academic enrichment, or just fun. Join us at the Involvement Fair and see what clubs are available for you.
Clubs listed in alpha order.
Organization
Description
Advisor

A-Team
Joining together as a team to plan and run fun activities for the LSC-North Harris Campus. Facebook/Twitter/Instagram
Kelsey Jackson
ABILITY Group
Providing outreach and educational programs regarding issues related to students with disabilities. Constitution
African American Student Association
(A.A.S.A.)
Provide an avenue for the fellowship of the students interested in African-American cultural exchange and awareness, and to develop and foster leadership potential among the membership. Consitution
Mark Barnes
Deidre Taylor
African Student Union
Introducing and promoting African cultures through community life and personal development, and developing leadership skills and awareness of social responsibilities. Constitution / Facebook / Instagram
AfterMath
Promoting mathematics & its application for physics, engineering, and mathematics majors; providing career information and speakers. Constitution
American Association of University Women (AAUW)
Student Affiliates
Promoting equality for women, lifelong education, and positive societal change. Constitution/Facebook
Tammy Edmonds
Kimberlee Ball
American Welding Society
Encouraging the advancement of welding, conducting research related to welding, and assisting other in the development of sound practices for the application of welding and related processes. Constitution
Anthony Priddy
Anime & Gaming Club
Bringing modern arts and innovative technology to the LSC-North Harris community. Constitution/Facebook
David Puller
Archery Star Organization (A.S.O.)
Providing instruction and skill development opportunities for students with archery abilities at all levels. Constitution/Shutterfly

Asian Student Association for Progress (A.S.A.P.)

Promoting cultural awareness of all Asian cultures through educational support, networking, creative expressions, leadership, and service. Constitution/Facebook/Instagram
Patlindsay Catalla
Brother for Brother (B4B)
Assisting in the academic, personal, and social development of minority young men at LSC-North Harris & Victory Center. Constitution

Barry Horn, Jr.
(North Harris)
Hilton Lasalle
(Victory)

Business-4-Success
Preparing students interested in business with proper tools sought after in the professional environment. Constitution

Julie Duncan
Barna Farkas
Oswaldo Naranjo
Perry Sellers
Debra Vick

Campus Christian Club
Uniting students interested in a deepening understanding of the Bible and its relevance to their lives. Chapters at North Harris, Greenspoint & Victory Centers. North Harris Constitution/Center's Constitution
Gwendolyn Charvis
(North Harris)
Janet Muzal
(North Harris)
Billy Voisin
(North Harris)
Mignette Dorsey
(Greenspoint)
Carol James
(Greenspoint)
Melvin McGowan
(Victory)
Arquilla Garrett
(Victory)
Britany Williams
(Victory)
Choir Club
Promoting excellence and interest in choral music through performances and educational opportunities.
Constitution
Dave Faber
Cosmetology Club
Bringing together students interested in the cosmetology profession; minimal dues and monthly meetings required. Constitution
Taffi Hill
Haley Burns
Criminal Justice Student Association (C.J.S.A.)
Providing an avenue for fellowship of students interested in Criminal Justice, increasing student awareness of concerns within CJ community, and developing potential among the membership. Constitution
Traqina Emeka
Digital Media Club
Uniting students interested in CIT and Visual Communications through training and professional development. Constitution/Twitter/Facebook
Kendall Lawrence
Marc Gordon
Jerome Duran
Earth Alliance
Promoting awareness & facilitating protection of the environment through education, encouragement &
hands-on involvement. Constitution/Facebook
Janice Hartgrove-Freile
Carmen Barcenas
E.L.I.T.E.
Providing educational and social networking forums, peer mentoring, professional enrichment, self-esteem building, and community service opportunities. Constitution
Fashion Club
Preparing students interested in fashion and interior design while promoting different areas in fashion and providing opportunities for students to demonstrate their creativity. Constitution
Kiwana Francis
Encouraging students to participate in public affairs related to interpreting careers. Constitution/Facebook
Charles Trevino
Candace Sexton-Ruiz
Geology Club
Advancing the knowledge of Geology through hands-on opportunities of learning within nature. Constitution/Facebook
Jeffrey Lewis
Honors College Student Organization (H.C.S.O.)
Enhancing the Honors Program through student interactions and programs. Constitution
Hurricane Men's Baseball Club
Promoting the sport of baseball & competing against other colleges as representatives of LSC-North Harris. Constitution
Shirley Ennis
Hurricane Men's & Women's Basketball Club
Promoting the sport of basketball & competing against other colleges as representatives of LSC-North Harris. Men's Constitution/Women's Constitution
Shirley Ennis
Hurricane Men's & Women's Soccer Club
Promoting the sport of soccer & competing against other colleges as representatives of LSC-North Harris. Men's Constitution/Women's Constitution
Shirley Ennis
Hurricane Men's & Women's Tennis Club
Promoting the sport of tennis & competing against other colleges as representatives of LSC-North Harris. Men's Constitution/Women's Constitution
Shirley Ennis
Hurricane Women's Volleyball Club
Promoting the sport of volleyball & competing against other colleges as representatives of LSC-North Harris. Constitution
Shirley Ennis
International Student Alliance (I.S.A.)
Promoting appreciation for the diversity of cultures, languages & national origins of LSC students, faculty & staff. Constitution
Jennifer Travis
Ralph Angeles
Latin American Student Organization (L.A.S.O.)
Sharing positive influence of Latin & Hispanic cultures & promoting awareness of their importance through unity & education activities. Chapters at North Harris, Greenspoint, and Victory. Constitution/Facebook/Twitter

Tony Diaz
(North Harris, Greenspoint, and Victory)
Lisa Cordova
Chris Trevino (Greenspoint)
Saul Zarco
(Greenspoint)
Christopher Hinojosa (Victory)

Muslim Students Association
( M.S.A.)
Conducting social, cultural, and religious activities, and promoting friendly relations between Muslims and non-Muslims. Constitution/Facebook
Bruce Martin
National Society of Collegiate Scholars (N.S.C.S.)
Recognizing and celebrating high schievement among first- and second-year students, and providing opportuntities for personal growth and leadership development. Constitution/Facebook
Chitra Janarthanan
Karan Prince
Stephen King
North Star News
Acquiring hands-on experience in the field of newspaper publication & publishing a campus newspaper. Constitution/Facebook/Twitter
Gemini Wahhaj
Paralegal Association
Promoting the paralegal field by enabling members to enhance or establish networking skills with others & enjoy guest speakers & legal field trips. Constitution/Facebook
Jeff Watts
Phi Theta Kappa
Recognizing & promoting academic excellence & leadership abilities; membership by invitation with
3.5 G.P.A. & 12 credit hours at LSC-North Harris. Constitution/Facebook
Lynda Dodgen
Laura Dupree
Pride Alliance
Creating a safe and supportive enviroment to help individuals in need of a place of acceptance and understanding, and promoting acceptance and tolerance for all types of people within the community. Constitution
Candace Sexton-Ruiz
Psi Beta
Serving as a means of national recognition of student interest in and dedication to the field of psychology and scholastic achievement, enhancing leadership skills, and encouraging research in psychology. Constitution
Janice Hartgrove Freile
Nevate Holmes
Judith Montana
Show of Hands
Promoting awareness of deaf culture & sign language; hearing & deaf impaired welcome; interpreter is available at all club functions. Constitution/Facebook
Candace Sexton-Ruiz
Sisters Aspiring for Greatness through Education (S.A.G.E.)
Offering opportunities for fellowship, education, mentoring & enrichment for students at the Victory Center. Constitution
KimOanh T Dinh
Chanel Provost
Sociology Club
Raising awareness of socially relevant issues and exposing students to the field of sociology, while promoting education outside the classroom. Constitution
Kelli Vorish
Student Ambassadors
Representing LSC-North Harris to the community through visiting high schools, legislators, campus guests, and business people.
Becca Stephenson
David Smith
Student Government Association (S.G.A.)
Equipping students with a vehicle for their voices to be heard; unifying students in working for the betterment of LSC-North Harris & Greenspoint & Victory Centers. Constitution
Shae Adkins
Kelsey Jackson
Student Library Technology Advisory Club
(S.L.T.A.C)
Promoting the use of library technology and information literacy, and providing peer mentoring to students regarding tools, resources, and technologies available in the library. Constitution
Terry Gonzalez
Billy Hoya
Katherine McGittigan
Student Nurses Association (S.N.A.)
Supporting students in the nursing program & interested in nursing through out-of-class programs & development. Constitution
Rajrani Sharma
Connie Noeller
Student Veterans Association (S.V.A.)
Providing a voice for veterans at LSC-North Harris; promoting a sense of individual obligation among students to the community. Constitution
Brandon Swaringim
Tango Club
Teaching and learning different types of Tango to students who have never danced before and providing a positive experience. No partner, experience or auditions required. Constitution/ Facebook
Sean Herlihy
Upbeat Dance Group
Offering jazz, ballet, lyrical, hip-hop/funk & other styles of dance. Upbeat is an innovative, energetic dance team. Constitution
Shirley Ennis
Visual Artists Association (V.A.A.)
Creating a community of people who create and appreciate art, providing peer teaching and criticism, and helping other understand the importance of art.
Remind 101 Information: Text @VAA2015 To 81010 or join through the Remind app and find classroom @VAA2015 Constitution
Kay Nguyen