LSC-Montgomery Workplace Wellness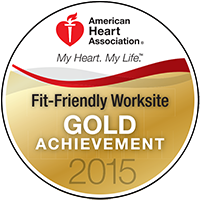 Lone Star College-Montgomery has been recognized as a 2015 Gold Level Recipient of the American Heart Association's Fit-Friendly Worksites Recognition program.
The Fit-Friendly Worksites program is a catalyst for positive change. Worksites throughout the nation can be part of the initiative by making the health and wellness of their employees a priority. LSC-Montgomery was recognized as a Gold Level Fit-Friendly Worksite by the American Heart Association's My Heart. My Life. initiative for:
Offering employees physical activity support
Providing/increasing healthy eating options at the worksite
Promoting a wellness culture
Implementing at least nine criteria as outlined by the American Heart Association in the areas of physical activity, nutrition and culture
"Physical activity and employee wellness are important priorities at LSC-Montgomery. We are honored and excited to be recognized by the American Heart Association as a Gold-Level Fit-Friendly Worksite," said Scott Hankosky wellness instructor. "We are committed to providing the best wellness workplace environment possible. This will benefit our employees' health and produce even more positive results for our worksite overall. "
Studies suggest implementing a worksite physical activity program and promoting a culture of activity will help:
Increase productivity
Reduce absenteeism
Lower turnover
Reduce healthcare costs
Since receiving this award LSC-Montgomery has instituted even more wellness opportunities for employees offering:
30 minutes three days a week of work out time
A walking track, tennis courts, fitness center, and aerobic studio for exercise on campus
Water, sports drinks and other non-soda products in vending machines
Salads, yogurt and lighter foods in our campus cafeteria
Access to United Healthcare's wellness workplace website
For more information on the Fit-Friendly Worksites initiative, or to find out what you can do to incorporate more physical activity into your day, stop by the Wellness Center in building A or email Jacqueline Cooper Jacqueline.A.Cooper@lonestar.edu, Terry Albores (Terry.L.Albores@lonestar.edu) or Scott Hankosky (Scott.A.Hankosky@lonestar.edu).
For more information about the Fit-Friendly Worksites program and how it's helping to improve the health of Americans by focusing on the workplace, call 832.918.4030 or visit heart.org/worksitewellness.
About the American Heart Association
The American Heart Association is devoted to building healthier lives, free of cardiovascular diseases and stroke. To improve the lives of all Americans, it provides public health education in a variety of ways. The American Heart Association teams with millions of volunteers to fund innovative research, fight for stronger public health policies, and provide lifesaving tools and information to prevent and treat these diseases. The Dallas-based association is the nation's oldest and largest voluntary organization dedicated to fighting heart disease and stroke. To learn more, call 1.800.AHA.USA1 or visit heart.org.
Links to Better Health
United Healthcare (http://myuhc.com) is the company healthcare plan and their site offers many incentives and information that can better your health. For more information take a look at the HR News You Can Use (pdf) »
Employees Retirement System (ERS) of Texas also has great information about Lone Star College employee benefits. For more information take a look at News About Your Benefits-Wednesday, June 1, 2016.
Get the flash player here: http://www.adobe.com/flashplayer