Center for Reading and Writing
Who We Are
We are the Center for Reading and Writing at LSC-North Harris. Our consultants support students across disciplines with all stages of reading or writing assignments.
Our Philosophy
We believe that writing is a social process aided by conversation with peers. Our consultants are prepared to work with students across all stages of reading and writing projects in order to develop and improve ideas.

Location and Contact Info
LSC-North Harris Center for Reading and Writing
Location: Learning Center A-200
Phone: Tara Edwards 281.618.5483
Contact Professor Allison Laubach Wright with Questons: Allison.L.Wright@LoneStar.edu
Appointments
Hours of Operation Spring 2019
Spring hours run January 14 - May 3.
| | |
| --- | --- |
| Monday-Wednesday | 8 a.m. - 7 p.m. |
| Thursday | 8 a.m. - 3 p.m. |
| Friday | 8 a.m. - noon |
| Saturday - Sunday | Closed |
* Closed January 21.
What We Offer:
Individual Writing Consultations
Understand a class assignment
Get started on your writing project
Move from drafting to revision
Complete your assignment requirements
Small Group Writing Consultations
Use the collaborative table for invention, drafting, revising, and editing
Share ideas together
Reading Consultations
Practice reading strategies for each college course
Individualized Writing Help
Application essays
Scholarship essays
Any writing outside of class
Our Method
Writing Consultants will work alongside you on your work at any stage of the writing process, from understanding an assignment to drafting to proofreading. We will support your writing process, and consultants will never take over your paper or "fix" it.
Instead, our goal is to help you develop strategies for brainstorming, reading, writing a thesis, structuring a paper, elaborating on ideas, using good citation and formatting, and improving any other writing issues you're concerned about.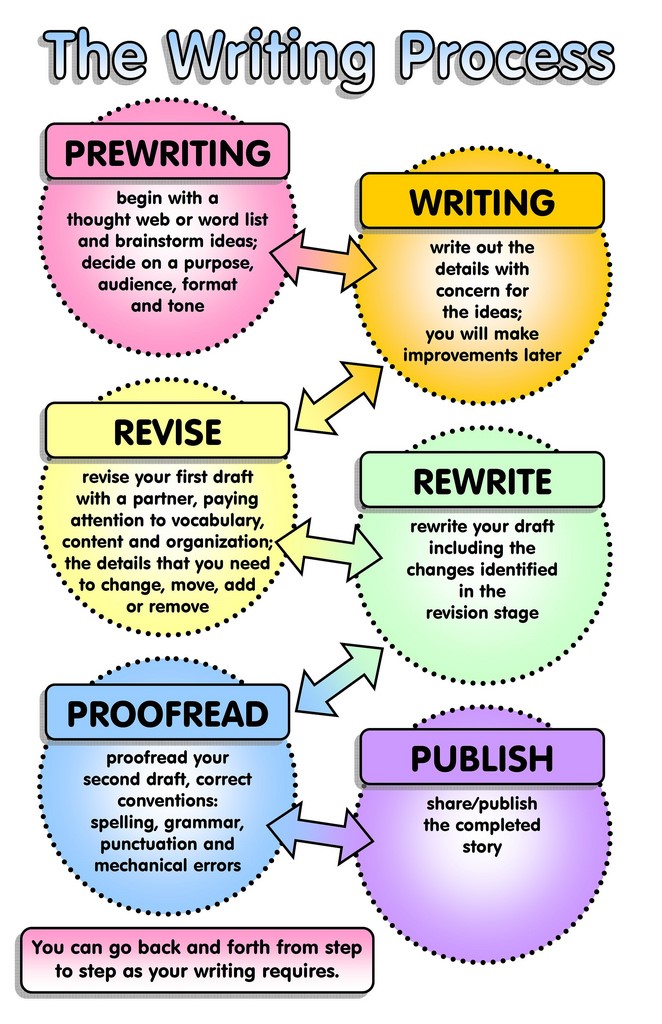 The Writing Process Diagram Pre-Writing, Writing, Revise, Rewrite, Proofread, Publish