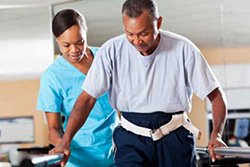 The Occupational Therapy Assistant Program is accredited by the Accreditation Council for Occupational Therapy Education (ACOTE) of the American Occupational Therapy Association (AOTA). They are located at:
4720 Montgomery Lane, Suite 200
Bethesda, MD 20814-3449
(301) 652-AOTA
www.acoteonline.org
Graduates will be eligible for the national certification examination for the occupational therapy assistant administered by the National Board for Certification in Occupational Therapy (NBCOT). After successful completion of this examination, the graduate will be a Certified Occupational Therapy Assistant (COTA). Most states, including Texas, require licensure in order to practice. Texas licensure is based on successful completion of the NBCOT Certification Examination. A felony conviction may affect a graduate's ability to sit for the NBCOT examination or attain a state licensure. Any form of charges of conviction results on a criminal background may be cause for exclusion from admission to the program.
During 2013-2015, the program graduated 66 (91.67%) of the 72 students enrolled during that time:
All OTA students must complete Level II Fieldwork within 18 months following completion of academic preparation.