LSC-Kingwood Occupational Therapy Assistant Department

Occupational Therapy is a dynamic allied health profession that provides specialized assistance to help people learn or regain skills needed to lead productive and satisfying lives. Through therapeutic intervention, occupational therapy maximizes independence for individuals of all ages who have physical, emotional, social or developmental disabilities.
OTA Information Sessions
Information sessions will be held at on the following days and times:
May 2, 2019 (Thursday) at 12:30- SIB 103
June 4, 2019 (Tuesday) at 5:00- SIB 103
July 16, 2019 (Tuesday) at 12:30- SIB 103
August 6, 2019 (Tuesday) at 5:00-SIB 103
September 12, 2019 (Thursday) at 12:30- SIB 103
Mission
The mission of the OTA Program at Lone Star College-Kingwood is to develop effective Occupational Therapy Assistant practitioners who have the knowledge, skills, and attitudes to succeed in an ever changing health care delivery system. The students in the program will be encouraged and supported in valuing and participating in their communities and in professional activities throughout their life.
Watch the OTA Program Video

OTA Program Philosophy
The LSC-Kingwood Occupational Therapy Assistant Program Philosophy aligns with both the "Philosophical Base of the Profession" and "Philosophy of Occupational Therapy Education."
"Man is an active being whose development is influenced by the use of purposeful activity. Using their capacity for intrinsic motivation, human beings are able to influence their physical and mental health and their social and physical environment through purposeful activity. Human life includes a process of continuous adaptation. Adaptation is a change in function that promotes survival and self-actualization. Biological, psychological and environmental factors may interrupt the adaptation is impaired. Purposeful activity facilitates the adaptive process." ( AOTA, 1979)

"Occupational therapy education is grounded in the belief that humans are complex beings engaged in a dynamic process of interaction with the physical, social, temporal, cultural, psychological, spiritual, and virtual environments. Through active engagement within the internal and external environments, humans evolve, change, and adapt. Occupational therapy educators advocate the use of occupation to facilitate health promoting growth, change, and/or adaptation with the goal of participation in meaningful occupation that supports survival, self-actualization, occupational balance, and quality of life." (AOTA 2007)
LSC-Kingwood Occupational Therapy Assistant program recognizes that there is a difference between activity, purposeful activity and occupation. The program emphasizes the value of an individual's engagement in occupation as paramount to wellness. In order to promote health and wellness, we believe all aspects of human development must be examined and critically analyzed.
We believe that students learn and develop critical thinking by engaging in active participation. The intent of the program is to provide a seamless transition between philosophy and practice. Modeling of professional behaviors are integrated throughout the curriculum.
The Program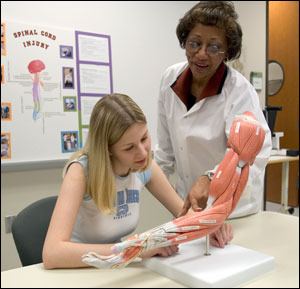 The Lone Star College-Kingwood Occupational Therapy Assistant program is a full-time, daytime program beginning each January. Program curriculum is developed under the guidelines of the American Occupational Therapy Association and includes academic and technical courses. In the final semester, students are placed in local healthcare facilities for a minimum of 16 weeks (full-time) to complete fieldwork requirements.
Upon successful completion of the program, students graduate with an Associate of Applied Science Degree. Program graduates will be eligible to take the national certification exam to become a Certified Occupational Therapy Assistant (COTA). Most states, including Texas, require licensure in order to practice.
This program is accredited by the Accreditation Council for Occupational Therapy Education (ACOTE) of the American Occupational Therapy Association (AOTA) located at:
ACOTE
4720 Montgomery Lane, Suite 200
Bethesda, MD 20814-3449
301.652.AOTA (2682)
http://www.acoteonline.org
Results of National Board For Certification In Occupational Therapy (NBCOT) Examination Program Performance Data on the https://secure.nbcot.org/data/schoolstats.aspx.