LSC-Conroe Center Automotive Technology Department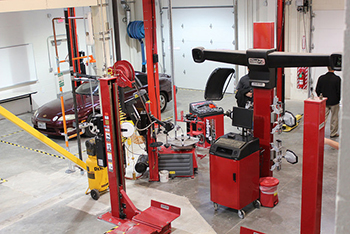 Automotive service technicians inspect, maintain and repair automobiles and light trucks that run on gasoline, diesel, electricity or alternative fuels such as ethanol.
Today, integrated electronic systems and complex computers regulate vehicles and their performance while on the road. Technicians must have an increasingly broad knowledge of how vehicles' complex components work and interact. They also must be able to work with electronic diagnostic equipment and digital manuals and reference materials.
The academic requirements of the 19-credit hour program provide a foundation for continued studies should the student decide to further pursue his or her education or training. All courses offered through the program are held at Lone Star College-Conroe Center and will transfer to Lone Star College-North Harris, where the student may pursue an Associate of Applied Science Degree in Automotive Technology.
The GST Certificate program has been reviewed by the National Automotive Technician Education Foundation and has full Automotive Service Excellence (ASE) certification. The student is prepared and is encouraged to take the appropriate ASE certification exams once all academic and workforce experience requirements have been met.

Learn more about the automotive workplace. We've also created a resources page to get you started.
LSC-Conroe Center Contacts
Mary Mendoza
Assistant Dean
936.273.7351
Cynthia Latter
Workforce Advisor
936.521.4506
LSC-Conroe Center, CC-100B
Bill Williams
Faculty and Program Director
936.521.4540
LSC-Conroe Center, CC-124H