First Week Information

Here's some information you may be interested to know about as you start the first week of the Spring 2017 semester as a Lone Star College-CyFair student. This First Week Information page provides support to new and returning students. It will help you as you prepare to navigate your first week of class.
Parking Tips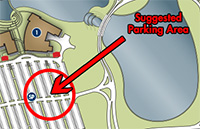 Parking is limited. Be sure to arrive early to find parking or try carpooling with a friend! The south parking lot by the Center for the Arts usually has spaces available even when the other lots are full. Click on the image to the left to see a large map of the campus showing where that parking lot is in relation to the various buildings.
Other Resources