Educational Partnerships at Lone Star College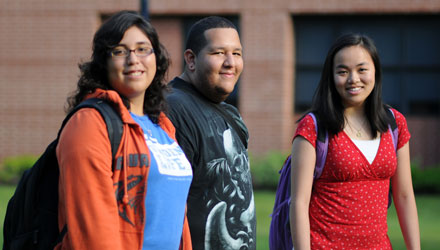 Pathways to College & Career Success Start Here!
Educational Partnerships at Lone Star College offers a wide range of opportunities for students to reach their goals.  We work to provide clear pathways for success – whether students are in high school, want to transfer to a university, or want to earn a credential and join the workforce.
Mission: Educational Partnerships serves our students and communities, from local to global, by leading innovative partnerships to continuously improve and expand access to quality educational opportunities, resources, and technology.
Vision: Educational Partnerships strives to lead the way for innovative educational opportunities, services, and resources that benefit our students and communities.  We will create effective and efficient models for local, national, and global partnerships.
High School, College & Career Pathways
College Credit in High School
Transfer & University Partnerships
Lone Star College System has many transfer degree programs, system-wide transfer initiatives, and resources to assist students in transferring to a university to earn a bachelor's degree.  Students are able to complete the core curriculum, earn associate degrees, obtain career and technical credentials, and transfer their credits and credentials to apply toward a bachelor's degree. Learn more about transfer here.
Reverse Transfer & Texas Reverse Transfer Initiative
Reverse transfer is a program specifically designed to allow students who transfer to a university prior to earning an associate's degree to be awarded that credential while pursuing their bachelor's degree. 
The Texas Reverse Transfer Initiative is a multi-partner, grant-funded project developed to increase associate degrees awarded and enhance collaboration among Texas two- and four-year postsecondary institutions.  The project is led by Lone Star College System, University of Texas at Austin, and University of Texas System.
Library Technical Services
Library Technical Services supports the core library functions of teaching, research, and public service by providing students, faculty and staff, and our communities with library technology, interlibrary loan, acquisition of print and non-print materials (books, journals, magazines, newspapers, etc.), and processing and cataloging of materials. 
Programs of Study at Lone Star College
Lone Star College students have many options to choose from to meet their education and career goals.  Our programs range from core curriculum completion and academic degrees to workforce education and options for credit and non-credit courses to improve career opportunities.