LSC-Montgomery Graduation
Congratulations Maverick Graduates!
"The future belongs to those who believe in the beauty of their dreams".     ~ Eleanor Roosevelt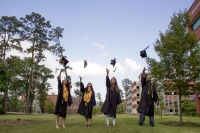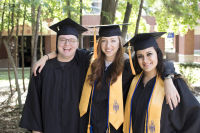 At the end of each semester, Lone Star College awards diplomas to students who complete their degree/certificate requirements. Students who attend LSC-Montgomery and who graduate during December 2016, May 2017 or August 2017 are eligible to participate in the May ceremony. We hope you will join your fellow Maverick Graduates to celebrate this momentous occasion!
Ceremony Information
May 12, 2017

Woodlands Church - Fellowship Campus 
One Fellowship Drive
The Woodlands, TX 77384
Graduation Student Speaker
Calling all Maverick Graduates! Nominations are now being accepted for the 2017 LSC-Montgomery Commencement Student Speaker.

Nomination applications will be available from December 1, 2016 - January 27, 2017. Apply now!

Qualifications
All nominees must meet the following qualifications:
Current LSC-Montgomery student
Candidate must be a Fall 2016, Spring 2017 or Summer 2017 graduate
Nominees must be in Good Academic Standing with LSCS
Available to participate in the 2017 LSC-Montgomery Commencement ceremony on Friday, May 12, 2017
Selection Process
If selected, nominees will meet with the Selection Committee for an interview and will complete a 3-5 minute "preview"speech presentation. A final decision will be made in February 2017.
The selected Student Speaker will be featured in the Graduation marketing campaign, will have their photograph and bio information printed in the 2017 Commencement program, participate in the 2017 Graduation Orientation, receive an LSCS Graduation cap & gown, and participate in the platform party processional and stage seating.

Submitting your Nomination
All nominees must complete the required information below and submit one of the speech options listed below:
Option 1: Submit a 3-5 minute video of your opening Commencement address to the Class of 2017. Content should include a positive and inspirational message.

Guidelines:

Video quality should be clear, with a lighter background for easy visibility.
Music may be included however please ensure that there is no music playing during the speech portion.
Include your name on the video.
Submit videos via email to Kathryn.J.Lee@lonestar.edu

Option 2: Submit a 2-3 page paper which highlights your opening Commencement address to the Class of 2017. Content should include a positive and inspirational message.

Guidelines:

3 page maximum.
Include a cover page with your name and contact information.
The speech's will be judged on the content (unique perspective, motivational aspects, relevant quotations, and anecdotes), presentation style and delivery.
Questions? Contact (936) 273-7237 or Kathryn.J.Lee@lonestar.edu for additional information.
Maverick Graduation Trail
Prior to attending the Commencement ceremony, students must apply for Graduation. Graduation application priority deadlines:
October 1st for Fall diplomas
February 1st for Spring diplomas 
April 1st for Summer diplomas
Submitted Graduation applications are reviewed by a Graduation Specialist. An email (sent to your myLoneStar email account) and a mailed letter will be sent to students indicating receipt of the application and any missing program/certificate requirements.
Questions? Contact one of our Graduation Specialists below:
| | |
| --- | --- |
| Graduation Specialist | Graduation Specialist |
| | |
| 936-273-7304  |  936-271-6330 |
Graduation Resources
Cap, Gown and Invitations
Graduates participating in the 2017 commencement ceremony must wear a black cap and gown. Caps and gowns may be purchased from any Lone Star College bookstore and should be picked up by May 1st. The cost is $38.00. Contact the LSC-Montgomery Bookstore, (936) 273-7338.

Need assistance with your cap & gown? Contact a campus Graduation Specialist  or your Advisor for more information.
Phi Theta Kappa
Graduates who are members of Phi Theta Kappa should contact Sarah Palacios-Wilhelm or Angela Colmenares for information about PTK regalia. Available items include stole, cords, key medallion and tassel: http://recognitions.ptk.org/index/php/graduation.html .
Psi Beta Psychology Honors
Graduates who are members of Psi Beta Psychology Honors should contact Karen Buckman or Mike Green for information about Psi Beta regalia.
Sigma Kappa Delta Honors
Graduates who are members of Sigma Kappa Delta Honors should contact Ron Heckelman for information about Sigma Kappa Delta regalia.
Commencement Photos
Graduates will have their pictures taken by a professional photographer at the ceremony. In addition to individual pictures, a group shot of all graduates will be taken. Students and their families will have the opportunity to purchase the photographs. The photographer will contact the student directly via the information provided by the student to the graduation department.
Diplomas
All commencement participants will receive a commemorative diploma cover during the ceremony. Diplomas will be mailed from the System Office (not individual campuses) after requirements are certified. Mailings will occur mid-June for May graduates and mid-September for summer graduates. Questions? Contact your Graduation Specialist .