Faculty and Staff
Interim Dean
Anne Amis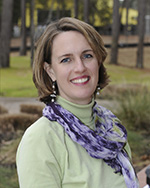 Anne Amis, professor of English to Speakers of Other Languages (ESOL). She joined LSC-Kingwood in 2007. Amis earned a Bachelor of Arts in Spanish from Hendrix College and a Master of Arts in Teaching ESOL from the SIT Graduate Institute.
Amis has presented two papers: "Activities to Energize Academic Writing" at the Texas of English of Other Languages (TESOL) conference in 2011. In addition, she presented "Applying Appreciative Inquiry in an ESOL Writing Class."
In 2012, she was the recipient of the Faculty International Education Grant, Vietnam. She was also honored with the 2011 LSC-Kingwood Faculty Excellence Award.
Amis is a member of the college's Intercultural Student Organization, The Academy and the Behavioral Intervention Team.
"I teach ESOL because it gives me the opportunity to work alongside immigrants and international visitors who are exploring the life-changing gifts and challenges mastering another language provides. As a second-language learner myself, I find the process extremely rich and rewarding," Amis explained. "During my time at LSC-Kingwood, I have always been offered opportunities for personal and professional growth; I love teaching and working here because I am always learning something new, be that a new course I teach a diverse and international student population or professional development activities."
Email: Anne.E.Amis@lonestar.edu
Phone: 281.312.1737
Office: CLB 102-I
Web Site
Department Chair
CaLandra Pervis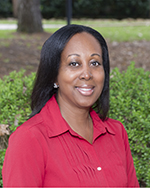 CaLandra Pervis, professor of education, joined LSC-Kingwood in 2008. Pervis earned a Bachelor of Business Administration degree from Lamar University and a Master of Education degree from Texas Southern University. Additionally, she earned a doctoral degree from Nova Southeastern State University.
Pervis is a member of Faculty Senate, the Associate of Arts in Teaching committee and is a Be a Teacher Advisor. "I enjoy working with young people and adding value to a student's life," Pervis stated. "I enjoy LSC-Kingwood because of it's a professional, learning and supportive environment."
Email: Calandra.A.Pervis@lonestar.edu
Phone: 281.312.1733
Office: CLA 105
Web Site
Faculty
Dr. Jamie Turner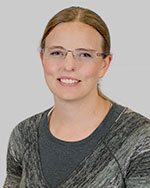 Jamie Turner, Ph.D., assistant professor of engineering, joined LSC-Kingwood in 2013. Turner earned a Bachelor of Science degree in Metallurgical and Materials Engineering from Colorado School of Mines, in Golden, Colorado and a Ph.D. in Engineering Systems from the same institution.
Prior to joining LSC-Kingwood, Turner taught engineering courses at the Colorado School of Mines, worked for Los Alamos National Labs and Hazen Research.
Turner is involved in several professional organizations including the Particulate Science and Technology Group, and the Society of Math and Engineering.
She was instrumental in starting LSC-Kingwood's engineering program. "We have grown the department from offering only one class and one degree program to now offering seven different classes and five associate of science degrees from five different instructors," Turner explained. "It has been really exciting to develop courses and degree programs and see the first cohort of students successfully transfer into four year engineering programs."
Turner is an advisor for the Society of Math and Engineering club, serves on the Engineering curriculum team.
Email: Jamie.L.Turner@lonestar.edu
Phone: 281.312.1776
Office: CLB 118A
Dr. Miguel Caceres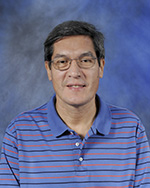 Email: Miguel.A.Caceres@lonestar.edu
Phone: 281.312.1713
Office: HSB 202-H
Web Site
Adjunct Faculty
Staff