PLA by American Council on Education (ACE)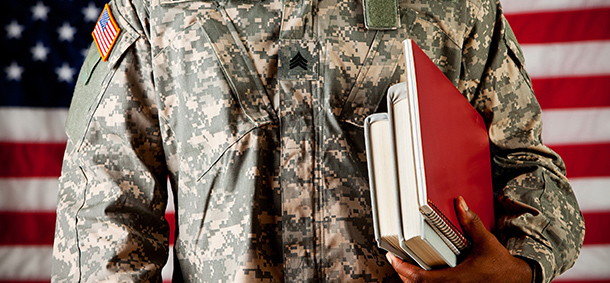 American Council on Education (ACE) uses expert evaluators to review workplace training, military experiences and national exams for potential college credit matches. The organization produces a transcript with credit recommendations for employers and post-secondary institutions to review. Transcripts are evaluated by LSC faculty to determine the award of course credit. ACE recommendations do not guarantee course credit. LSC may accept, deny or modify credit recommendations in accordance with academic curriculum and institutional policies. 
Types of ACE Assessments
Military 
All students identified as active duty military or veterans must undergo prior learning assessment (PLA) of their military training and occupational experiences. This process is initiated through an LSC veteran affairs (VA) advisor. Students are encouraged to begin this assessment process prior to course registration to prevent duplicating courses awarded through PLA. 
Students seeking credit for service in the United States Air Force use the regular transcript evaluation process, not PLA by ACE. 
LSC accepts certain DANTES Subject Standardized Tests (DSST) for credit. Official exam score reports are required to receive credit and the students must request credit assessment through the external challenge exam process. Please visit the PLA by External Challenge Exam web page for accepted DSSTs and minimum score requirements.
Resources
US Coast Guard (CGI) Transcript
Workplace Education/Training & Exams
Students that have completed workplace education/training and national examinations evaluated by ACE must pursue prior learning assessment to request credit. ACE evaluated training is verifiable through the National Guide to College Credit for Workforce Training. Students are required to have an official ACE transcript and document on the PLA application the LSC course credit they are seeking.
Although evaluated by ACE, the credit assessment of CLEP scores is done through the PLA by External Challenge Exam process. Please visit the PLA by External Challenge Exam webpage for a list of accepted CLEP exams and minimum passing scores. Official score reports are required to receive credit. 
ACE Courses Approved for Credit
Lone Star College has awarded course credit for a number of ACE recommended training programs. Students undergoing assessment of military experience can review course credit opportunities on the LSC Course Crosswalk of Military Experience. PLA by ACE credit is not limited to the academic programs and courses listed.
Fire Science
National Emergency Training Center / National Fire Academy (NFA) Courses
Management
Disney Course Number/Name 

Lone Star College Course Equivalent

 
CP0004  Human Resources Mgmt 
HRPO 2301   Human Resources 
CP0009 Marketing U-Career Str. 
HUMD 0114  Career Search Str.