Prior Learning Assessment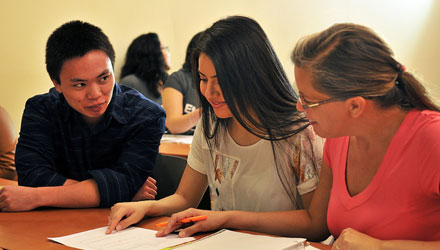 What Is Prior Learning Assessment (PLA)?
Prior Learning Assessment (PLA) is an opportunity to petition course credit for experiential learning, non-credit course completion, professional development, licensure/certification and challenge exams. Course credit is awarded when content mastered through a prior experience is comparable to the student learning outcomes of a LSC course. Credit is generally awarded for introductory level courses, thereby accelerating time to program completion.
How Does It Work?
Students meet with an advisor to request a credit assessment.
Advisors/Counselors verify eligibility and submit assessment requests for evaluation.
If students meet all eligibility criteria, credit is awarded.
PLA Options
Continuing Education (CE) articulation is an agreement to award semester credit hours toward a credit course for successful completion of certain CE courses.
Lone Star College has established equivalent course credit for minimum passing scores on nationally-recognized, college entrance and subject exams.
High School Articulation is an agreement to match high school career and technical education (CTE) courses with college CTE courses.
Internal challenge exams are developed by LSC faculty and administered through campus testing centers or academic departments. 
Portfolio allows students to request course credit for knowledge and skills acquired through employment, cooperative (co-op) education and/or training.
PLA Criteria and Guidelines
Criteria
Enrolled in a LSC academic program in the current semester.
Provide official documentation (transcripts, license/certification, etc.) supporting the request for PLA credit.
Meet eligibility requirements specific to the PLA option.
Guidelines
Requests must be processed with an LSC advisor or counselor.
Prior Learning Assessment is not available for credit toward courses attempted or previously taken at LSC or a transferring institution. 
Acceptance of PLA credit toward the Honors College degree plan is at the discretion of the campus Honors College director.
Credit is awarded after a student has been enrolled past official day of the current, academic semester. The calendar date for official day is identified on the LSC Academic Calendar.  
PLA credit is only awarded when it applies to a current, LSC program.
Credit for PLA by Exam is applicable only to LSC graduation requirements and will not appear on the official transcript. Exception: Credit for the AVANT placement exams is transferable. 
PLA credit posts as "TCR"  on transcripts.
Other academic institutions may not accept PLA credit awarded by Lone Star College. Students are responsible for verifying credit acceptance with the receiving institution before deciding to pursue

PLA credit.

No more than 50% of credit certificate or associate degree coursework may be earned through PLA. See an advisor LSC graduation requirements.
If necessary, fees must be paid to the campus business office before testing or pursuing faculty assessment. 
Fees for PLA
PLA Option
Fee
American Council on Education (ACE) Transcript Evaluation
No Fee
Continuing Education Articulation
No Fee
External Challenge Exam
Fee may apply

*

High School Articulation Credit/Advanced Technical Credit
No Fee
Internal Challenge Exam
$25 per exam
Military Transcript Evaluation
No Fee
Non-Regionally Accredited College or University Transcript Evaluation
$25 per transcript
Portfolio Credit
$60 per portfolio

*A fee of $25 per assessment will be charged for any additional faculty evaluation needed.
PLA Forms
Contact Information
LSC-CyFair
LSC-Kingwood
LSC-Montgomery
LSC-North Harris
LSC-Tomball
LSC-University Park