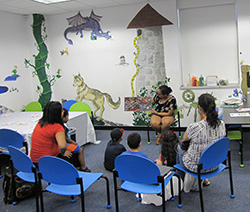 Lone Star College-CyFair students and future educators are gaining experience reading aloud at the library's new children's storytime.
Most of the students in Associate Professor Leslie Jewkes' children's literature class are education majors. As part of the Service Learning component of her class, students are spending Monday evenings through Dec. 4 in the college library's Kids Corner.
They can earn eight hours toward a Service Learning designation on their transcript, said Jewkes. Students come up with a lesson plan based on Madeline Hunter's model for teaching and learning, preparing a 15-minute story and activity for children, who will rotate through storytime stations. Students later write a reflection paper about their experience.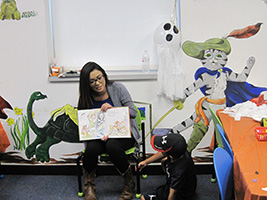 Recently, one student read a story about a puppy with the lesson being on how to appropriately interact with small animals. The activity had the children glue a previously cut out puppy on paper and write or draw ways they would handle the puppy.
Jewkes said among the objectives being addressed with her students' participation in the storytime assignment are "how do we read aloud, why is that important and how do we connect to students?"
"Students will improve their skills and presentation ability," said Jewkes. "They'll learn how to teach reading and how to approach reading in their classroom. They'll learn the importance of reading aloud to children as well as what to do and not do."
Children attending storytime benefit from hearing LSC-CyFair students reading aloud to them, said Jewkes.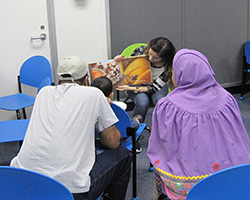 Citing Mem Fox, author and retired Associate Professor of Literacy Studies, Jewkes said "Reading aloud gives children increased vocabulary, empathy toward world, connection to the written and spoken word, connection to the reader themselves and gives them awareness of the building blocks of language. Additionally, it models for them the love of story and the love of reading and there's a higher tendency for them to become lifelong readers."
The new storytime, featuring stories, rhymes and activities, is held Mondays at 6:30 p.m. in the Harris County Public Library LSC-CyFair Branch Library at 9191 Barker Cypress. The session is limited to 25 children, and both the parent and child must be present to receive an admission ticket.
For information on this and other storytime sessions, email Jennifer.E.Crouse@LoneStar.edu. For information on Service Learning or LSC-CyFair programs, go to LoneStar.edu/Cyfair. Registration for winter mini-mester and the 2018 spring semester begins Nov. 15.