Plus 18 Partnership
Want to teach college level classes or Dual Credit?
The Plus 18 Partnership is a dynamic program designed to provide masterís degreed professionals with the opportunity to obtain 18 credit hours in a specific discipline. Individuals who have a masterís degree prior to the program start date will be able to earn the additional 18 credit hours in English, Government, History, Speech, Math, or Economics to be considered eligible to teach dual credit courses and/or college level courses for Lone Star College.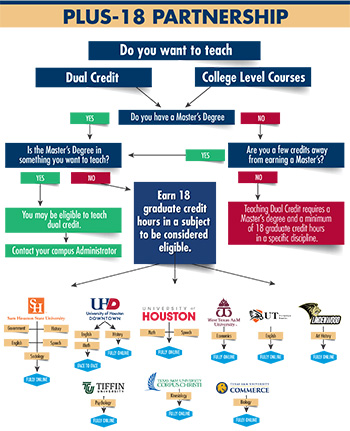 The following selections (click link above) have been reviewed as possible graduate level courses meeting Lone Star College-CyFair department criteria for an 18-hour program. Lone Star College does not coordinate the availability or scheduling of the class list. Course offerings and frequency are determined by the university.
FAQ's
Q. Who can enroll in the program?
A. Plus 18 is open to anyone who has a masterís degree and wants to teach college level courses. This program is especially tailored to professionals working in an educational setting (teachers, professors, staff). Earning 18 credits hours in a specific content area (English, Government, History, Biology, Speech, Math, or Economics) can provide the credentials needed to be elibible to teach dual credit classes at the high school level or college level courses for Lone Star College.
Q. What programs are available?
A. There are six program options from different Universities. See the Plus-18 Univeristy List above.
Q. Can I still be in a program if I do not have a masterís yet?
A. If you will have a Masterís degree before the semester start date, you may apply for the program.
Q. What if I already have some credits?
A. If you have already earned some of the courses in the program, you might only be a few credits away from being eligible. Please contact the Plus 18 Partnership program coordinator at: Brenda.Piatiak@lonestar.edu or 832.482.1070
Q. What is the enrollment deadline?
A. Enrollment deadlines vary depending on the participating university and discipline. Each university has its own application and deadlines. See university links for dates and admissions requirements
Q. How much does it cost?
A. The tuition is different for each university and can change. Always check with the university for costs.
Q. Are the scholarships and financial aid available to students in the program?
A. Financial aid and/or scholarships may be available. Contact each university representative for more information.
Contact Information
Please contact Brenda Piatiak for more information about the Plus 18 Partnership.