Student Research Conference 2016
About the Event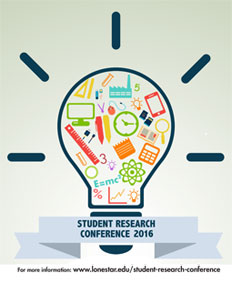 This is a free event open to the public in which faculty, undergraduate, and  students from local institutions in the greater Houston area and surrounding cities will come to LSC-Kingwood to showcase their research work. This event will provide opportunities for community college students to understand how upperclassmen utilize the material learned during their journey toward their degree, and also for the undergraduate and graduate students to practice and prepare their defense to their respective committees upon graduation.
Moreover, the event will also be a wonderful opportunity for the 4-year institutions to promote their math, computer science, and engineering programs by having their recruiters on campus to share how their institutions can help our students reach their academic goals. In addition, the students from 4-year institutions will be invited to a panel presentation to share their perspectives on the importance of the courses offered at the community college level, and how not only do these courses impact and build a strong foundation needed to pursue an academic career in research, but also to society.
Date and Time
April 23, 2016
8:30am – 2:30pm
Universities Invited
Lamar University
Rice University
Texas A&M
Sam Houston State University
Southwestern University
Stephen F. Austin
University of Houston
The University of Houston-Downtown
University of Texas at Austin
University of Texas at Tyler
Lunch Plenary Speakers
Closing Plenary Speaker
Student Speaker - Lone Star College-Kingwood
Attendees Requirement
Be interested in a career in Science, Technology, Engineering or Math
Note: We have a max capacity of 150 people. Attendees who register after reaching the max capacity will be placed in a waiting list.
Presenter Requirements
Math, statistics, economics, engineering, or computer science under/grad degree at a 4-year institution.
Working on a thesis, dissertation, or senior research project.
Registration
Please register for The Student Research Conference by filling out the online registration form. There is no registration fee for the conference. Take in consideration whether you would like to participate as and attendee or as a presenter. See requirements for more information.
Contributed Talks
There will be a morning and afternoon session of contributed talks, for which we welcome submissions on topics closely related to math, engineering and computer science.
Deadlines
Please note the following deadlines:
March 25th, 2016 (Friday): Presenter Registration Deadline.
April, 8th, 2016 (Friday): Contribute Talks will be announced.
April, 20th, 2016 (Wednesday): Attendee Registration Deadline.
Organizing Committee
Funding for The Student Research Conference 2016 is provided by
Department of Math and Engineering
Academic Division of Technology and Computer Science
Student Ambassador Program
Society of Math and Engineering