Business & Technology Cooperative Education
I can get college credit and make money at the same time????
Yes. By taking a co-op class and working in your field of study.
How do I get approval to register?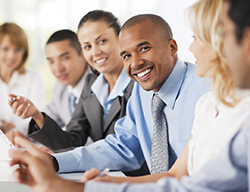 The requirements for co-op are as follows:
You must be nearing the completion of your degree or certificate, with at least 15 credits in your program.
You must be able to work 320 hours during the semester (20 per week in fall, 27 per week in summer).
You must devote at least 5 hours per week to your learning objectives.
Your learning objectives must be related to your field of study. If you are already employed, these activities must be above and beyond what you have previously done in your job. The intent is to show how your education has enabled you to take on more complex and challenging tasks.
You must have a supervisor that is willing to meet with the co-op coordinator twice during the semester at your work site.
If you meet these requirements, contact Linda Holcomb at Lisa.M.Hall@lonestar.edu to register.
What programs have Co-Op classes available?
Visit the links below to get specific information on the programs offered at Lone Star College-Kingwood.