LSC-Tomball Transfer Resources
How we can help

I am Chinda Acosta, the transfer advisor here at LSC-Tomball. Stop by the Advising and Counseling Office and see me for your transfer needs. I can assist you whether you are transferring into Lone Star College Tomball or you are headed out to a university. Allow me to help you make a smooth transition by taking advantage of the services below.
Pick up transfer literature including university brochures, transfer guides, Open House flyers, etc.
Obtain guidance with accessing degree options and understanding the connection between your degree plan at Lone Star College and the university of your choice.
Use our help to navigate the transfer admissions process and explore possible financial aid opportunities at your transfer institution.
Meet face to face with university representatives and get your questions answered first hand by attending our transfer events.
Help! How Do I Transfer?

Are you looking for some quick tips on how to transfer? Click on the PowerPoint slideshow below. (You may also download a printable, pdf version of the slideshow.)
If you need a reliable site to assist you in researching potential colleges and universities, use the CollegeFish.org site and create an account using your Lone Star email.
For additional step by step transfer planning assistance, use our new Transfer Checklist.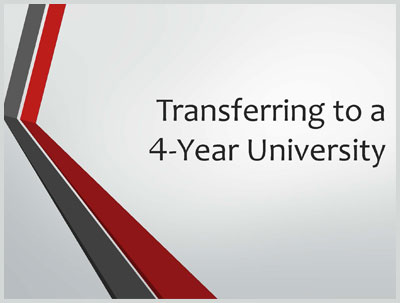 Are You a University Rep?
We would love for you to converse with our students by attending our various transfer events offered throughout the year. Keep your eyes open for special email invitations to our events. If you would like to set up a table visit, please contact me to schedule a specific day and time.
Help Us Improve!
Take our quick online survey and let us know how we can improve to better serve you.
Transfer Events
Texas A&M Transfer Session

Tuesday, April 30
1:00-2:00pm
E100
University Table Visits
Check the commons each week to see which university reps are visiting campus.
Texas A&M Corpus Christi
April 10
Prairie View A&M Univ.
April 11
Texas Southern Univ.
April 15
Sam Houston State Univ.
April 17
Contact Information
Advising/Counseling Office
Room: C-100
281.351.3310
Office Hours
Monday 10am-7pm
Tuesday-Thursday 8am-5pm
Friday 8am-4:30pm
***Check-in at the Advising and Counseling Office***