LSC-Tomball Transfer Center
How we can help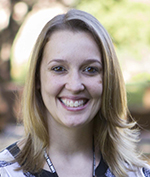 I am Lacy Moreno, the transfer advisor here at LSC-Tomball. Stop by the Advising and Counseling Office and see me for your transfer needs.  I can assist you whether you are transferring into Lone Star College Tomball or whether you are headed out to a university.  Allow me to help you make a smooth transition by taking advantage of the services below.
Pick up transfer literature including university brochures, transfer guides, Open House flyers, etc.
Obtain guidance with accessing degree options and understanding the connection between your degree plan at Lone Star College and the university of your choice.
Use our help to navigate the transfer admissions process and explore possible financial aid opportunities at your transfer institution.
Meet face to face with university representatives and get your questions answered first hand by attending our transfer events.
TRANSFER THURSDAYS
Are you planning on transferring to a university?  It's never too early to start the transfer planning process in order to ensure a smooth transition to the university of your choice.  Transfer Thursdays will continue during the Fall 2016 semester.

Help! How Do I Transfer?
Are you looking for some quick tips on how to transfer?  Click on the PowerPoint slideshow below. (You may also download a printable, pdf version of the slideshow.)
If you need a reliable site to assist you in researching potential colleges and universities, use the CollegeFish.org site and create an account using your Lone Star email.
For additional step by step transfer planning assistance, use our new Transfer Checklist.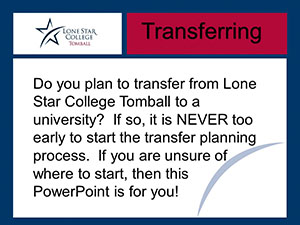 Are You a University Rep?
We would love for you to converse with our students by participating in our Transfer Thursdays program.  Transfer Thursdays will kick off in Spring 2016 during the months of February, March, and April.  We will host university representatives in our Commons area each Thursday from 10:00-1:00.  If you would like to participate, please fill out the registration form.  In order to expose our students to a variety of institutions, please limit your registration to one Thursday per month.  You will receive a confirmation email with additional details once you register.
Help Us Improve!
Take our quick online survey and let us know how we can improve to better serve you.
Transfer Fairs
Our Spring Transfer Fair is April 20th from 10-1 in the Commons.
Visit with the following schools:
HBU
Lamar
OLLU
SFA
SHSU
TAMU
Texas Chiropractic College
Texas State
TTU
TWU
UH-Main 
UH-Clear Lake
UH-Victoria
UTA
And More!
Transfer Thursday Schedule
March 31
University of Phoenix-Houston Campus
UH School of Nursing
April 7
Prairie View A&M
Texas Southern University
UHD
LSU
April 14
TTU
Lamar University
Texas Women's University 
SHSU-College of Education
April 21
April 28
Sam Houston State
UH School of Nursing