Super Saturdays at Lone Star College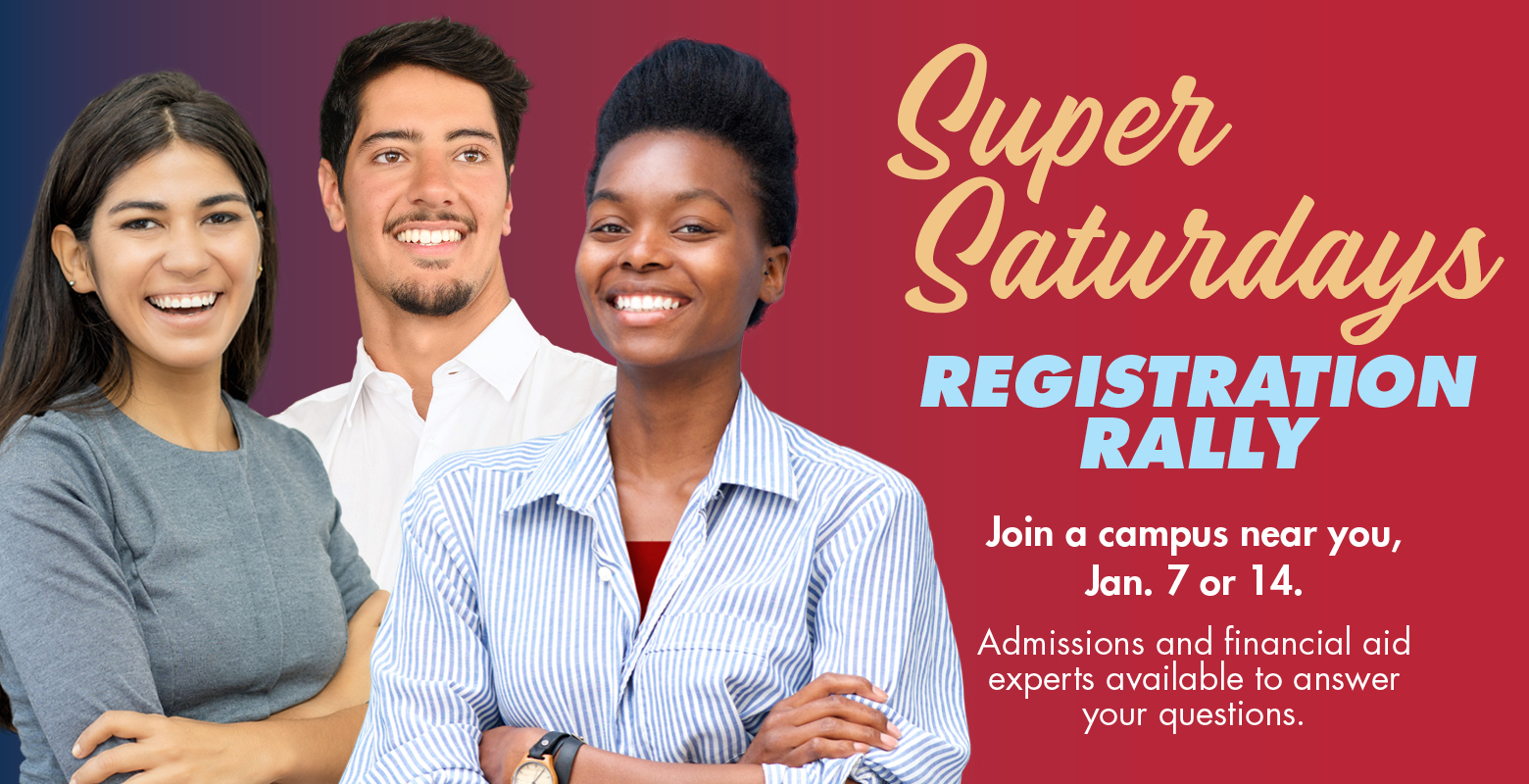 Learn What LSC Has to Offer
This is your chance to attend a Super Saturday event on January 14 at any of our campus locations to learn about all the great opportunities LSC has to offer. Find out about world-class academic programs, state-of-the-art workforce training, vibrant student life clubs/organizations and more.
RSVP for a Super Saturday and Expert Registration Help:
What to Expect
We're rolling out the red carpet to welcome new and current students and answer questions. Have instant access to expert help from admissions and advising to financial aid, plus resources and information from areas like:
Academic Degrees
Workforce Degrees and Certificates
Continuing Education
Bachelor's Programs
Veteran Services
Online Learning
Paying for College
Health Resources
Testing Services
Campus Safety
Student Life
What Can We Do For You?
Lone Star College gives students a pathway to high quality higher education that is close to home and affordable. We are accredited the same as universities so the credits you earn transfer while also saving money. (LSC Tuition).
More than half of college graduates earn credit at a community college like LSC (2019, NSF). Studies show that students who complete their first two years of higher education at a community college like Lone Star College and then transfer to a four-year institution are more likely to graduate with a bachelorís degree than those who actually begin their college careers at a four-year university (2019, Jack Kent Cooke).
LSC offers many academic transfer degrees to help students launch successful careers. Students can also learn about the Honorís College at LSC which offers high-achieving students the opportunity to graduate with Honors distinction. LSC also offers GED® classes for students to gain a high school equivalency diploma to apply to college, start training, or get a better job (LSC Programs).
Campus Locations

View LSC Locations in a larger map
Campuses
LSC-CyFair
9191 Barker Cypress Road
Cypress, TX 77433
281.290.3200
9am to 2pm

LSC-Houston North Fairbanks
14955 Northwest Fwy
Houston, TX 77040
832.782.5001
9am to 2pm

LSC-Houston North Fallbrook
12750 Walters Rd.
Houston, Texas 77014
281.836.9600
9am to 2pm

LSC-Houston North Greenspoint
250 N Sam Houston Pkwy E
Houston, TX 77060
281.260.3500
9am to 2pm

LSC-Houston North Victory
4141 Victory Dr.
Houston, TX 77088
281.810.5602
9am to 2pm

LSC-Kingwood
20000 Kingwood Drive
Kingwood, TX 77339
281.312.1600
9am to 2pm

LSC-Montgomery
3200 College Park Drive
Conroe, TX 77384
936.273.7000
9am to 2pm

LSC-North Harris
2700 W.W. Thorne Drive
Houston, TX 77073
281.618.5400
9am to 2pm

LSC-Online
January 7 & 14
9am, 11am, & 1pm
Join the January 7th Event With Zoom
Join the January 14th Event With Zoom
LSC-Tomball
30555 Tomball Parkway
Tomball, TX 77375
281.351.3300
9am to 2pm

LSC-University Park
20515 TX-249
Houston, TX 77070
281.290.2600
9am to 2pm
Make LSC part of your story.