LSC-North Harris Geology Department
Geology students gain a greater appreciation of the Earth through the study of the physical forces that shape the Earth (Physical Geology-GEOL1403), the history of the Earth through the study of environments, the development of life, and the succession of geological events (Historical Geology-GEOL1404), and the influence of geologic processes on man and the effects of human activity on the Earth (Environmental Geology-GEOL1405). Participation in optional field trips is encouraged. Oceanography (GEOL1445) is an exciting new addition that focuses on Earth's oceans, including composition, processes of change, life, history, and the tools and methods used to study them. Field trips are being planned for Surfside/Galveston and Moody Gardens Aquarium.

These courses are offered as both day and evening classes and are acceptable for associate degree programs and are transferable to four-year institutions to fulfill science requirements.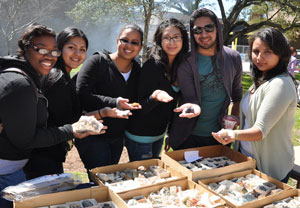 Make LSC part of your story.