Optional Practical Training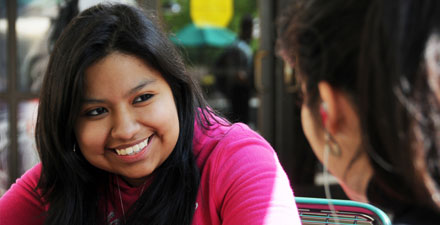 OPT is intended for students to gain real employment experiences in their chosen profession for a period of 12 months at every level. It must be recommended by your DSO/International Student Advisor and approved by the USCIS. When your application is approved, an Employment Authorization Document (EAD card) is issued to you for the duration of your OPT.
Eligibility Requirement
Enrolled as full-time for nine (9) consecutive months.
Be in valid F-1 status including valid passport and SEVIS I-20.
Be in good academic standing.
Important Note: You can only begin employment upon receiving your Employment Authorization Document (EAD)

Planning your OPT Application
F-1 students can apply for 12 months OPT for every level of a degree program. Once OPT is granted by USCIS, it will be extremely difficult to withdraw or cancel regardless of subsequent occurrences such as inability to find an appropriate job or loss of job or delay in completing requirements.
Different types of OPT
Pre-Completion OPT
Full time summer vacation period application.
Part time during academic session.
Full-time enrollment for the preceding nine (9) months before applying is required and the student must continue to remain enrolled for 12 credits, including while on OPT.
Post-Completion OPT
After completion of studies and submission to USCIS before date of graduation
Limit on Unemployment
A job offer is not required to be eligible for OPT. However, if approved, you must secure a job that is related to your major field of study within 90 days of approval. If you cannot find a job within 90 days of OPT approval, you may be able to fulfill this requirement by volunteering in a position that is related to your major field of study.

Change of Employer
You may able to change your employer after your employment has begun provided the new job is related to your major field of study.

Travel Outside the US
It is risky to travel outside the US while your OPT application is still pending at the USCIS. Once you have received your EAD card, you can travel outside of the US with the following documents:
• SEVIS I-20 signed in the past 6 months and SEVIS information updated
• Employment Authorization Document (EAD) card
• A valid F-1 entry visa
• Have a letter from your employer. If your OPT has been approved and you depart before you get a job, your OPT ends and you cannot reenter. If you have a job, you may travel and re-enter to resume work at the same job
Note: You can verify your application status by using your LIN number which you will find in your Notice of Action receipt. To verify your application status, go to the US Immigration website. Your receipt will also have a phone number you can call to verify your application status.
Application for OPT is authorized by U.S. Citizenship and Immigration Services (USCIS) for employment directly related to a student's major area of study. You can apply before or after completion of studies. It is limited to a total of 12 months at 40 hours per week at every level of your studies. For example: after completing your AA degree, you will be recommended for a 12 month OPT and after completing a bachelor's degree, you will be recommended for another 12 month OPT. A job offer is not required to apply for OPT.
Application Deadline
Application for OPT must be submitted to your DSO/International Student Advisor for recommendation to USCIS. Please give yourself about 60 to 90 days for approval from USCIS. If you are applying for post-completion OPT, you can apply to USCIS up to 90 days before graduation and need to have your complete OPT application mailed and received by USCIS within 60 days of completing your studies. If not, you will lose your OPT benefit. Please meet with your advisor to discuss your OPT plans and bring along the following documents:
1. I-765 form, on line 16 of the form put (C) (3) (A) if applying for Pre-Completion OPT or (C) (3) (B) if applying for Post-Completion OPT. Do not sign until the DSO provides the I-20 recommending OPT.
2. Letter from your academic advisor
3. Two photos (passport size) with your name and SEVIS ID number printed on the back
4. Transcript
5. Photocopy of current passport
6. Photocopy of both sides of the I-94 card even if the back side is blank if you have the paper-version. Print out of the electronic I-94 and copy of the admission stamp from your passport if you were not issued a paper I-94.
7. A copy of previous EAD card (if issued previously)
8. Photocopies of all previous I-20s.
9. Photocopy of F-1 visa in passport (if available)
If you meet all the eligibility requirements, the advisor will issue you a SEVIS I-20 recommending for OPT and submitting your information into SEVIS. You will need to sign the I-20 and the form I-765.
Then you mail the following documents (do not staple) to USCIS no later than 30 days from the date your DSO signed the SEVIS OPT I-20 and no later than 60 days of completing your studies at Lone Star:

• SEVIS I-20 with DSO and your signature
• I-765 form (item #1 above) signed by you after the DSO provided the SEVIS OPT I-20
• A check or money order in the amount of $410 payable to U.S. Department of Homeland Security
• Items 2-9 listed above.
It's recommended that you keep copies of all the documents you submitted to USCIS and send the documents via traceable mail (request a tracking number at the Post Office, UPS, FEDEX, etc.) to protect you in case they are lost.
Mail to:
USCIS Dallas Lockbox
For U.S. Postal Service (USPS) Deliveries:
USCIS
PO Box 660867
Dallas, TX 75266
For Express mail and courier deliveries:
USCIS
Attn: AOS
2501 S. State Hwy. 121 Business
Suite 400
Lewisville, TX 75067

OPT Decision from USCIS

USCIS will either approve or deny your OPT request. You cannot work until you are 1) approved for OPT AND 2) receive your Employment Authorization Document (EAD)