Language Lab
Learning a new language takes practice, practice, and more practice! And The Language Lab at Lone Star College-Montgomery is just the place for that. Available for students, as well as the entire community, the Language Lab has the most innovative technology and software, along with live staff and tutoring support—all for free!
Come find us—in the General Academic Center (Building G), Rooms 104 & 105. Make sure the language services you need are available by calling 936.271.6206 for an appointment. Walk-ins are welcome on a first-come, first-served basis.
What We Offer:
22 computers equipped with individual microphones/headphones
The latest independent-learning software
Instant Immersion (Chinese, English, French, Italian, Japanese, Spanish)
American Speech (English)
Web cams (American Sign Language)
All of these digital services, which allow you to work at your own pace and provide instant feedback on your language progress, go hand-in-hand with our other language support services like conversation groups, tutoring, workshops, and more.
The Language Lab is coordinated by the behavioral sciences, English, languages, and speech division.
Contacts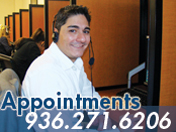 Walk-ins are welcome on a
first-come, first-served basis
Location
G-104, Language Lab
G-101, Tutoring & Conversation Groups