LSC-Montgomery's 20th Anniversary
Lone Star College-Montgomery celebrates its 20th anniversary during the 2015-16 academic year. The dedication of the college took place on August 14, 1995, when then-Texas governor George W. Bush was the keynote speaker.
Since then, LSC-Montgomery has grown and matured in so many ways. From just over 3,200 students in 1995 to more than 13,000 students in 2015, LSC-Montgomery has changed lives and impacted the community in so many ways.
Events
Take part in the college's 20th anniversary celebration, which will include interactive program booths, entertainment, food, games, music and more.
LSC-Montgomery 20th Anniversary Showcase
Saturday, October 3
11 a.m.-4 p.m.
Maverick Square (between Bldgs. F & G)
Free snacks
Music & entertainment
Interactive program booths (learn about the college in a fun, exciting way)
Campus tours
Games/inflatables
Local mascots
Dedication of Maverick Square
Enchantment Under the Sea Dance
October 22
6 - 10 p.m.
Health Science Center (Bldg. B, Atrium)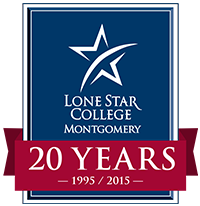 Links