LSC-Montgomery Music Department
Join Us!
Lone Star College-Montgomery offers a very dynamic and professional music curriculum. The program is designed so that all completed music classes count toward a degree in music and transfer seamlessly to any music program at a Texas four-year college or university. Join us this school year for an opportunity to Listen, Learn, Perform!
Click here for audition information for our music ensembles!
Chamber Singers
Symphony Orchestra or Symphonic Band
Concerts & Events
Jazz Ensemble Concert Thursday, April 28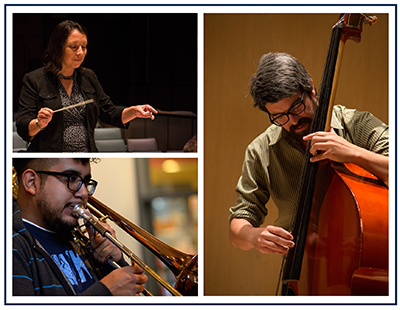 Join us Thursday, April 28 at 7:30 p.m. for the last Jazz Concert of the spring! Tickets are available online at the link below or at the door before the show. Tickets are $10 General Admission; $7 Seniors 55+; and $5 Student/Faculty/Staff

From Bach to Rachmaninov: 
An end of semester piano recital featuring students of Dr. Sergey Kuznetsov
Join us Friday, April 29 from 1 p.m. - 3 p.m. for a free studio concerto recital in the Recital Hall of Building H. Performing will be students of Dr. Sergey Kuznetsov. Don't miss this opportunity to experience some excellent performances! 
Music Department Showcase closes out the year Thursday, May 5
Thursday, May 5 will close out the Spring semester with a bang as ensembles perform in a spectacular showcase. Join us at 6:30 p.m. for a silent auction with all donations benefiting the Music Department Scholarship fund, as well as for refreshments and snacks during intermission. Don't miss out on this wonderful opportunity to see the varied and exceptional talents of our students! Tickets are available online at the link below or at the door before the show. Tickets are $20 General Admission; $18 Seniors 55+; and $10 Students/Faculty/Staff. 

Visit the
Concerts and Events
page for a full list of music events.
---
The Lone Star College-Montgomery Music Department prepares students for careers in music through an intensive two-year field of study in theory, ear training, music history, keyboard skills and private performance lessons. Led by noted faculty, students in our choirs, bands, orchestra, and chamber ensemble bring to the surrounding community a full season of concerts and recitals in a broad range of styles. After completing the field of study curriculum at LSC-Montgomery, music majors can transfer credit to any four-year Texas college or university to complete the bachelor's degree in music. In addition to courses for music majors, the music department offers such non-major courses as Music Appreciation and American Music. Participation in selected ensembles may be available via Community Education. Join us. Listen, learn, perform!
To support our growing music program, you can give to the Lone Star College Foundation. Please indicate your donation is for "LSC-Montgomery Music Scholarships." Your donation is tax deductible.