What is the Adult Basic Education Innovation Grant?
ABEIG allows students to earn a workforce certification in one of Lone Star College's Career and Technical Education Certification programs while building core skills in math, reading and language. Students benefit from intensive, on-site advising, which is designed to keep students focused and on-track for completion.
The grant assists in paying for the cost of their support class to assist the students with the material learned in class, as well as a College and Career Readiness class to prepare students for the classes and jobs. The student will receive a $200 tuition reimbursement after the successful completion of the workfoce class.
I have achieved something that no one in my family has ever done. I have completed training that will allow me to not only get a job but to start a career and be able to take care of myself, my wife and children.
- Dustin Ashworth
Find out more information about Accelerate Texas.
Certification Programs
Eligibility & Requirements
TABE (Test of Adult Basic Education) test score that falls within required range
Mandatory attendance in workforce, college and career readiness and support classes
Willingness to go to work or continue education after completion of certificate
Partners
The Adult Basic Education Innovation Grant is funded by the Texas Higher Education Coordinating Board. THECB provides leadership and coordination for the Texas Higher Education System and works to achieve excellence for the college education of Texas students.
ABEIG Staff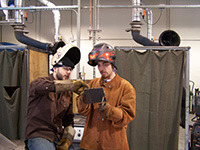 Tristyn Davis, ABEIG Program Manager
936.521.4536
CC124 E
Charlie Durbin, Advisor II
936.521.4537
Alisa Parks, PT Coordinator
936.521.4538
Anthea Diaz, PT Office Coordinator
936.521.4538