ACCELERATE Lone Star
A Program That Offers Careers for a New Future
ACCELERATE Lone Star allows students to earn workforce certification in one of the Lone Star College Career and Technical Education Certification programs while building core skills in math, reading and language. Students benefit from intensive, on-site advising, which is designed to keep students focused and on-track for completion. The program assists students in paying for the cost of their programs including support classes and books as well as College and Career Readiness classes to prepare for the classes and jobs.
Certification Programs
Automotive Technician
Machining Technology
Welding
Additional ACCELERATE Lone Star programs at Lone Star College:
Eligibility & Requirements
TABE (Test of Adult Basic Education) test score that falls within required range
Mandatory attendance in workforce, college and career readiness and support classes
Willingness to go to work or continue education after completion of certificate
Additional requirements for all healthcare certificates include a background check, immunizations, and a Social Security Card.
Partners
ACCELERATE Lone Star was initially funded by the Texas Higher Education Coordinating Board (THECB) under the "Accelerate Texas" state initiative. THECB provides leadership and coordination for the Texas Higher Education System and works to achieve excellence for the college education of Texas students.
I have achieved something that no one in my family has ever done. I have completed training that will allow me to not only get a job but to start a career and be able to take care of myself, my wife and children.
- Dustin Ashworth
Find out more information about
Accelerate Texas
.
ACCELERATE Lone Star Contacts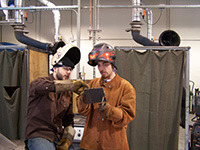 Martha Neely
936-521-4530
Martha.L.Neely@lonestar.edu
CE Contact Information
LSC-CyFair
CFCE@LoneStar.edu
Phone: 281.290.3460
Fax: 832.482.1003
9191 Barker Cypress Road, Cypress, TX 77433
LSC-Kingwood
LSCKCE@LoneStar.edu
Phone: 281.312.1660
Fax: 281.312.1612
20000 Kingwood Drive, Kingwood, TX 77339
LSC-Montgomery
LSCMCE@LoneStar.edu
Phone: 936.273.7446
Fax: 936.273.7262
3200 College Park Drive Conroe, Texas 77384
LSC-North Harris
LSCNHCE@LoneStar.edu
Phone: 281.618.5602
Fax: 281.618.5633
2700 W.W. Thorne Drive Houston, Texas 77073
LSC-Tomball
LSCTBCE@LoneStar.edu
Phone: 281.357.3676
Fax: 281.357.3726
30555 Tomball Parkway, Tomball, TX 77375
LSC-University Park
LSCUPCE@LoneStar.edu
Phone: 281.290.2601
Fax: 281.290.3691
20515 State Highway 249, Houston, TX 77070