Art Courses
Art Lecture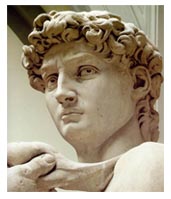 Art Appreciation is one of the most popular classes in our department. Geared for the student just beginning to study the Arts, this class explains the how and why of art. Learning is supported with abundant images and an emphasis is placed on understanding art along with why and how it is created. Individual artists, as well as diverse cultures and their art are stressed.
Art History I and II delve more into the chronological study of art as an expression of culture. Art History I examines the time periods from Paleolithic to Gothic while Art History II continues on from Renaissance to present day. Art History I is not a prerequisite for Art History II.
---
Three Dimensional Arts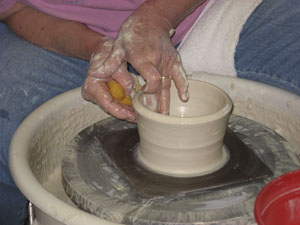 Ceramics' classes include instruction in both hand building and wheel production. We have a beautiful outdoor pavilion that houses the main gas kiln along with many smaller ones and Raku facilities. Inside D building there is an indoor studio with wheels, slab rollers, ample tables for work with a glaze room and electric kiln area. Students enjoy the availability of inside and outside areas in which to work.
Professor Robby Wood is also the faculty advisor for the popular Clay Club that sponsors several student art sales every year. Email Charles.R.Wood@LoneStar.edu for more information.
Design and Sculpture encompass the creation of artworks using a variety of media and approaches.
---
Two Dimensional Arts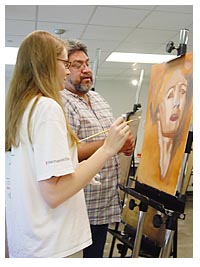 Drawing classes are geared toward the beginning art student and progress to advanced studies in Drawing. In beginning drawing, basic visual elements and principles of design are a key part of the instruction with a focus on the individual student.
Design classes stress basic composition and relationships of the visual elements and principles of organization. Class assignments are varied and may incorporate a variety of media and techniques. The advanced class is the study and application of color theories in a variety of materials and media. Emphasis is placed on utilization and experimentation of color with understanding of how it works and impacts perception.
Painting is an introduction to various painting theories and techniques using oil and/or acrylics. The advanced class follows with emphasis on style development with additional techniques.
Students are invited to join the creative Art Club. This group serves the college in a variety of creative endeavors combined with plenty of camaraderie. Contact any art faculty member for information or email Mead.L.McLean@LoneStar.edu.
---
Photography
Photography is very popular with our students. We have a darkroom with state of the art equipment. Students provide their own manual 35 mm cameras, develop their own film and create enlargements. Besides standard black and white photography, students are encouraged to step beyond traditional boundaries with alternative processes. Email Linda.Woodward@LoneStar.edu for more information.
---
Art Metals
In addition to 2-D and 3-D design, we also offer courses in Art Metals I and II, also known as Jewelry. Through these courses, students are introduced to metal fabrications through the study of basic materials and techniques, using both hand construction techniques and casting. Techniques also include soldering, riveting, raising, sawing and filing. Email Linda.Woodward@LoneStar.edu for more information.