LSC-Montgomery Art Gallery
Coming Soon!
The North Houston Hispanic Chamber of Commerce and LSC-Montgomery Mary Matteson-Parrish Art Gallery present Bienvenidos Seres Queridos - Welcome Loved Ones. Join us Monday, October 10 through Friday, November 2 to view this exciting exhibit. Monday, October 10 • 11 a.m. the day starts off with an Art Talk / Lecture with Houston Artist Carlos Hernandez. At noon, the art exhibit opens at with an explanation of Dia de los Muertos and a question and answer session with attending artists. The festivities continue in the evening at 6 p.m. with an evening reception opening with Aztec dancers, followed by a viewing of the art and meet and greet with some of the artists.
Participating artists:
Carlos Hernandez, Francisco Franco, Kristie Odom/Robynn Sanders Hale, Hector Guerra, Jeff Garcia, Jose Olvera, Carlos Barberena, Patrick McGrath Muñiz and special guest artist, Dr. Rebecca Riley.
Mary Matteson-Parrish Art Gallery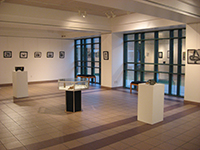 Welcome to the Mary Matteson-Parrish Art Gallery. The gallery is open Monday through Friday from 10 a.m. till 5 p.m., during the Fall and Spring semesters. And Monday through Thursday from 10 a.m. till 5 p.m., during the Summer. The gallery is located in D-101 which is in the Center for the Arts, Building D. We welcome everyone to come enjoy the various art exhibits, and hope you will attend the meet and greet sessions with selected artists as well. All art exhibits are free of charge and open to the public.
Mary Matteson-Parrish served on the Lone Star College System Board of Trustees from 1993-2005. During her tenure, she served as board chair, one term as vice chair, one term as secretary and audit committee chair. She also served as co-chair of the citizen's committee that successfullly conducted a petition drive and electrion campaign that permitted the Conroe Independ School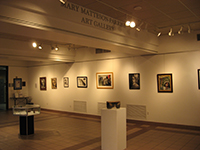 District to join Lone Star College System in 1991. That effort alo lead to the creation of Montgomery College in 1992, nd the completion of the College's comprehensive campus on College Park Drive in 1995. Matteson-Parrish has participated in and provided leadership and support for many civic, business, political and community development groups, including initiatives associated with the arts. She was formerly the Director of Custom Home sales for The Woodlands Development Company, and is a "pioneer" resident of The Woodlands. Her family was one of the first 25 families to move to The Woodlands in 1974.
Art Gallery Exhibit
Gallery Hours
Fall and Spring Hours
Monday-Friday
10 a.m. - 5 p.m.
Summer Hours
Monday-Thursday
10 a.m. - 5 p.m.