Learning Networks
Overview
The Learning Networks are thematic academic courses offering a unique approach to a learning community. Classes are not linked. Instead, the idea is to build a sense of community through outside of class activities, common themes, and material culture, such as t-shirts and other types of gear. Students take one, two, or more classes based on their own interest level of the subject matter. Participating instructors define the Learning Networks theme for their own classes. This means that two instructors teaching courses with a theme of Pop Culture might have a different focus within their respective classes. Each instructor chooses creative and innovative ways to uniquely integrate the theme in each class.
Spring 2019 Learning Networks
The themes for Spring 2019 is Pop Culture and Heroes and Villains. The following Learning Network classes are available in these themes:
Pop Culture
Comics and Composition
ENGL 1301.5048 (8319) Composition and Rhetoric I
Tuesdays & Thursdays 10:00 AM – 11:20 AM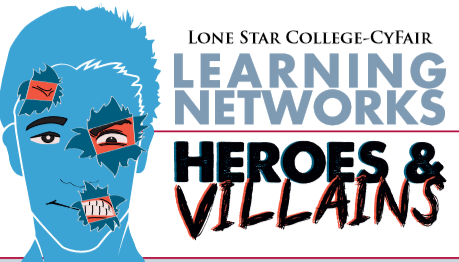 Us and Them: Heroes, Villains & Storytelling
(flyer will be posted soon)
ENGL 1302.5056 (10018) Composition and Rhetoric II
Tuesdays & Thursdays 1:30 PM - 2:50 PM
ENGL 1302.5058 (10020) Composition and Rhetoric II
Tuesdays & Thursdays 3:00 PM - 4:20 PM
How to Register
Register for Learning Network classes through your myLoneStar account!